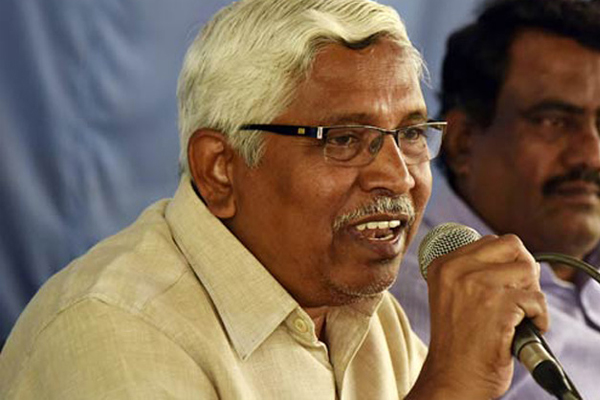 Telangana Jana Samithi leader Prof. Kodandaram says the Mahakutami's defeat in Telangana elections is mainly because of too much delay in announcement of its agenda. Now that CM K Chandrasekhara Rao may guide his party to contest in AP polls, Kodandaram says it will only benefit TDP leader and CM Chandrababu Naidu.
Kodandaram is unhappy that the Congress and the TDP leaders did not listen to his words for an early announcement of Mahakutami agenda prior to polls. It left just 20 days for the allies to go to the people with their agenda but the Professor feels there should be a minimum of 50 days to convince the voters about their agenda. However, the Congress leaders told him at that time there was positive voters' mood for their alliance and the agenda issues would not require so much attention.
With regard to KCR Federal Front, Kodandaram says there is no scope for this experiment in national politics as of now and it would be better to speak less about this. He comments sarcastically that only KCR would know to whom exactly that the Federal Front benefits would go. His comments are significant as the TDP leaders are already saying KCR front is aimed at benefitting the BJP-led NDA coalition in Delhi. TDP has criticised that KCR is aiming to split anti-BJP vote by luring some regional parties and hurt the Congress.
G.Ravikiran