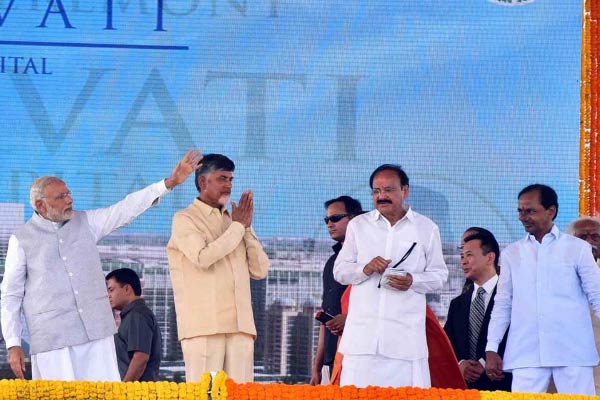 Telangana chief minister K Chandrasekhar Rao is going to reciprocate Andhra chief minister Chandrababu Naidu's invitation to  Amaravati on Vijayadasami Day. Rao, will soon go to the residence of Chandrababu Naidu in Hyderabad, when he is available in joint capital, to invite  him to the Chandi Yagam, scheduled on December 23. The Yagam will be performed at his Erravalli farm-house.
Chadrasekhar Rao is inviting all important personalities across the country to the Yagam which he performs every year. This year, it is going to be a national event.  Chief minister, who left for New Delhi this evening, is meeting President  Pranabh Mukherjee and Prime Minister Narendra Modi along with some other union ministers tomorrow to invite them to the Yagam. He is expected to invite BJP national  president Amit Shah as well.
According to highly placed sources in TRS , "Telangana  chief minister  Chandrasekhar Rao will visit Naidu's residence along with his family and invite Naidu's family including his son and daughter-in-law to the Yagam.  Most likely in mid November KCR is expected to pay a visit to the residence of Naidu."
On Amavarati day i.e, October 22,2015  when PM was laying foundation stone for the new capital, Naidu  extended extraordinary reception to his Telangana counterpart, who was till other day his bête noire.   Chandrasekhar Rao was an extraordinary guest at the function. He was third important member on the dais,  the other two being Prime Minister Modi and union minister Venkaiah Naidu. This honor was not available to  senior most political leader of the state and former chief minister K Rosaiah.  At every ritual Naidu ensure KCR was there around. And the pinnacle of the importance was the etching of KCR's name on the plaque the prime minister unveiled to commemorate the day. Thanks to the new found bon homie,  Naidu made KCR's name unforgettable in the history of Amaravati.  A similar reception awaits Naidu at  Chandi Yagam," a senior TRS leader told 'telugu360.com' .