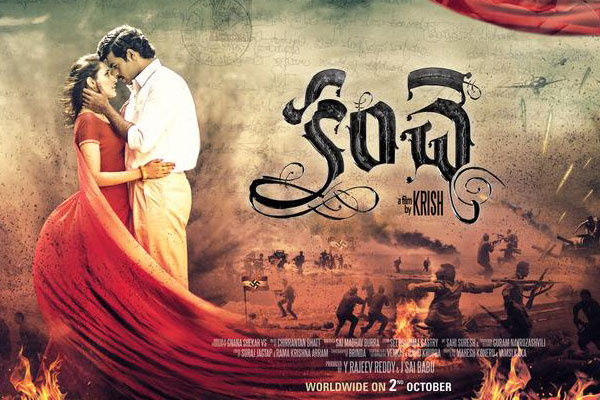 [intro] The decision to release "Kanche" on Dasera day coinciding with "Bruce Lee" is an audacious one. What really happened? Did it pay off? [/intro]
——-
"Kanche" was originally scheduled to be released on October 2nd. Then it got postponed  indefinitely almost until Diwali. Until news came that the producers of "Akhil" took a decision on the day "Bruce Lee" released to postpone it until November. In a matter of minutes, "Kanche" distributors had a conference call with the producers and decided to advance the release of "Kanche" on October 22nd. It was a courageous call: "Bruce Lee" got great openings despite drawing flak from all, "Rudramadevi" was still going strong and a bunch of low-budget movies were just round the corner. But the distributors of "Kanche" stuck to their conviction – it is going to be Vijay Dasami and no later. The movie was bought for a total of Rs.11 crores or more all over the world.
The film got bought for Nizam territory for about Rs.3.65 crores and has already crossed Rs.2 crores nett in the opening weekend. As per latest reports, the collections in Ceded and Andhra are also strong. Though the satellite rights are yet to be sold, the film is going to make a decent buck in the first week of collections with overall collections dropping just ten per cent after the long festive weekend. Strong word-of-mouth publicity, fresh story with international caliber story-telling alongwith great reviews have made this a must-watch film with family audiences and A-centre audiences world-wide. The fact that there is no big film until November 5 ("Bengal Tiger") means that the good run will continue for another ten days. Despite a lack of entertainment, the short duration of the film has encouraged the multiplexes to block more shows for "Kanche" rather than the other two releases – "Raju Gari Gadhi" and "Columbus" of which the former is declared a hit. RGG got sold for Rs.1.5 crores to MAA TV and collected Rs.2.5 crores net share so far, which means its a hit already.
Moral of the Story: Fortune favors the brave. Credit must go to the bold distributors who backed a good content film on a festival day with the result that "Kanche" is going to rain monies for everybody from the exhibitors to the distributors as well. If the film crosses a total figure of around Rs.14 crores, it is going to be a superhit. It also proves one of the golden tips given by producer D.Suresh Babu to those who want to get the timing right. He used to quote that if you have dynamic content, don't budge, release it on the day of the big movie release instead of pushing out or advancing because the audience will take a call if the content is refreshingly different from a star hero film. It happened with the film "Anand" when it released on the same day as "Shankardada MBBS". Even though everybody feared "Anand" will lose, the contrary happened. Anand withstood competition from "Shankardada MBBS" and became a sleeper hit. Same thing happened with "Kanche" released a week after "Bruce Lee". While the latter drew dull reviews because of stale content, "Kanche" got encouraging response because of audacious content and a theme like-never-before. Tollywood continues to surprise us with its own ways of rewarding the box-office glory on the unsuspecting.
(Corrections: An earlier version incorrectly stated that Kanche released a day after Brucelee. Comparision of Shankar Dada MBBS's box-office performance with Anand's is also corrected)