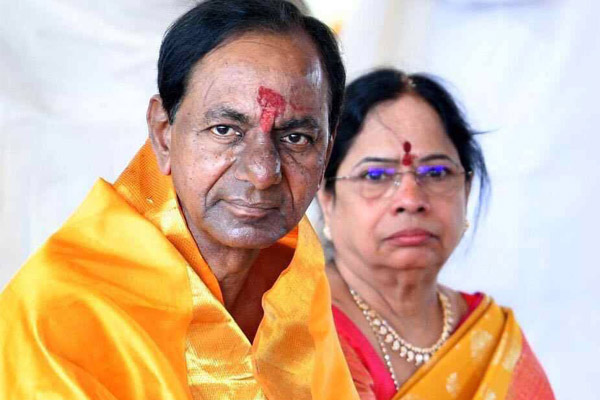 Hyderabad: Telangana chief minister K Chandrashekhar Rao seems to be mixing up his political ambitions with spiritual rituals. KCR is known for performing Yagams at his farmhouse, of late he's also turned keen on Andhra Pradesh. According to TRS sources, the party supremo, who's also a staunch follower of Sarada Peetham seer Swamy Swaroopananda, may visit Andhra Pradesh to participate in annual celebrations at Visakha Sarada Peetham during February 10-14. It'll be KCR's second visit to AP after winning Assembly elections in December 2018.
Several leaders and fans of KCR may meet Telangana chief minister during his visit to Vizag. Speculation is rife over possible discussions on strategizing a poll plan to check AP chief minister N Chandrababu Naidu. KCR has already publicly announced that he would present a return gift to Naidu.
Sarada Peetham Seer Swamy Swaroopananda has invited KCR and his family to participate in the annual celebrations at the Ashram. KCR along with his family members may fly by a special aircraft to Visakha, added party sources.
It may be recalled that KCR, who's en route to Odisha, on December 23, 2018, participated in yagam at Sarada peetham in Visakhapatnam and sought blessings of seer Swamy Swaroopananda, who performed Raja Shayamala Yagam for KCR's political prospects at Erravalli before Assembly elections.
KCR recently performed Sahasra Maha Chandi Yagam at his farm house located at Erravalli village near Siddipet. Subsequently, TRS won 88 seats out of 119 Assembly constituencies in Telangana.
Much before the Assembly elections in Telangana, KCR had kicked off his mission Federal Front to cobble up an alternative platform to Congress and BJP. KCR had met Navin Patnaik, Odisha chief minister, before leaving for Kolkata, where he had interacted with Pashchim Bangla chief minister Mamata Benerjee.