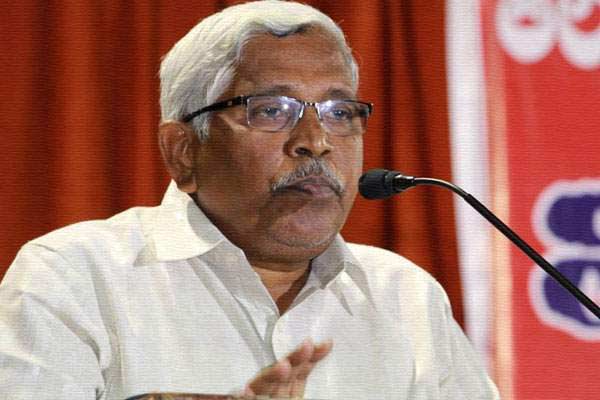 The participants have criminal background. They have participated in Telangana Struggle and related programmes. All those strikes Million March, Sagara Haram, All people's strike (sakalaJanulaSamme) have resulted in violence. Chalo Hyderabad rally or the unemployment rally permission is denied because extremist elements have infiltrated into the group and might resort to violence.
Irony died a painful death after hearing this argument from the Telangana government. This is the same government which said that Andhra People denied admission in colleges for P V Narsimha Rao and Professor Jayashankar, because they participated in Mulki Agitation. This is the same KCR government for whom Srikantha Chary burnt himself in broad day light. These are the same leaders who participated in the rallies, rail roko and strikes organized by JAC. So the government is now ultimately framing that every Telanganite who participated in Telangana Struggle now has a criminal background.
May be the government will state the same clause for all those irregularities in appointments of SI and Constable because their criminal background is fighting for the statehood. The government is going to support very specific leaders and is behaving like a flag bearer of Nepotism. Just because Prof Kodandaram did not support TRS, they do not like him or give any chance which will elevate him. Police started arrests in various parts of the state beginning this week and over 600 people had been taken into custody alleged the professor.
Very recently the state witnessed protests seeking changes in the selection criteria by youngsters across the state. May be the government sensed that if these chunks are united, it might pose a greater threat to their government.Any despotic actions are going put TJAC on a higher ground. Police have warned the youth that if they violate the prohibitory orders, criminal cases will be booked against them. Paradoxically, the government ensured that theRailway Court dismissed the pending cases in connection to the rail-roko protest during Telangana Agitation which includes KTR, Kavitha, BandaruDattatreya, Kodandaram.
The ridiculous argument put forth by the government is that TJAC could not exercise effective control over the congregation mobilized by it. So ultimately the government is arguing that all the agitations for Telangana movement by TJAC were not executed properly. If the agitations are termed indirectly as failure, it is worth thinking who spearheaded the separate state movement – KCR and team? Or the gods whom KCR is showering gifts?
Any person who witnessed the separate Telangana struggle can draw parallels between the TRS government and the rulers of united AP who tried all possible ways to suppress the movement for separate Telangana state. Such repressive methods will only lead to defying prohibitory orders imposed by the police. The professor also appealed to youth and students to stage a silent protest wherever they were stopped by the police. These measures only provoke the organizers to rebel and go ahead with its rally.
Telugu360 is always open for the best and bright journalists. If you are interested in full-time or freelance, email us at
[email protected]