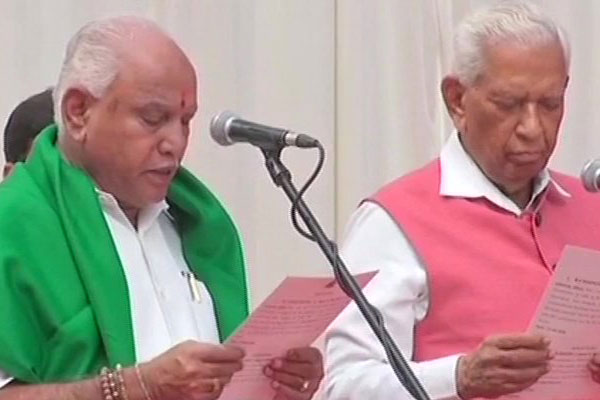 Yedyurappa sworn-in today as 23rd CM of Karnataka. Initially he planned to take oath on May 18th, but at that time he was expecting full majority. But as BJP didn't get the magic number, situations turned dramatically. Finally he sworn-in at 9:30 am today. Actually BJP's steps and timing chosen for those steps clearly show how BJP is bypassing courts and constitutional institutes, say the analysts.
Governor sent invitation to BJP to form the government at 10 pm last night. Analysts and opponents say, this time was chosen to send the invitation intentionally as court timings would have been over by that time. Also swear-in was chosen at 9:30 am i.e. before start of the courts for the day. By this, BJP clearly attempted to bypass courts.
Also, gubernatorial institute has been criticized in India for so long as most of the governors using their discretionary powers to impress central governments. Actually it is governors discretion to invite "Largest party" OR "Largest coalition" to form the government. Constitution didn't clearly specify which one "Largest party" OR "Largest coalition" to invite first. So governor can exercise his discretion and courts can also not interfere with governor's discretionary powers.
Probably, BJP has now mastered this technique of bypassing courts and misusing constitutional institutions like governors. But BJP is setting very dangerous precedent which future central governments may also follow to suppress their opponents ruthlessly.
Telugu360 is always open for the best and bright journalists. If you are interested in full-time or freelance, email us at
[email protected]