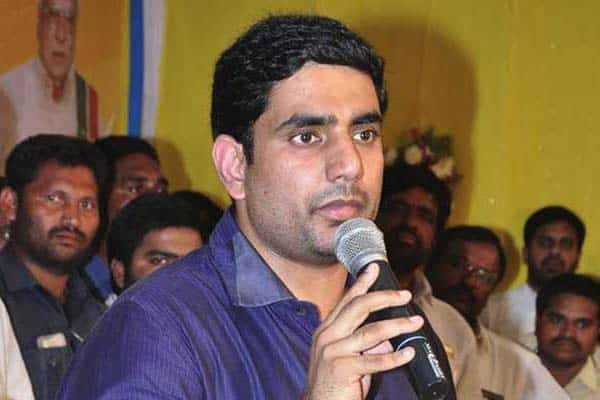 Vijayawada: The open challenge thrown by Minister for IT, Panchayat Raj and Rural Development Nara Lokesh to Opposition leader Y S Jaganmohan Reddy for an open debate on development had fixed YSR Congress leaders. The YSR Congress leaders across the State have reacted to Lokesh's challenge finding fault with the young Minister for challenging the Leader of Opposition.
Lokesh had blamed Jaganmohan Reddy alleging that the Opposition leader is obstructing the developmental projects in the State. He cited the example of the government bringing Kia Motors to set up a car manufacturing unit in Ananthapur district and alleged that Jaganmohan Reddy had instigated the farmers there not to give their lands for the factory. Similarly, he said that Jaganmohan Reddy had tried to mislead the farmers of the capital villages against land pooling and the farmers of Godavari district against the Pattiseema Project. He also accused Jaganmohan Reddy of spreading misleading and false campaign against him and the TDP through Sakshi media group. He recalled a photograph in which he was speaking to Home Minister Chinarajappa during the party meeting and said that the Sakshi media had misrepresented the facts to create rift between two castes.
The IT Minister said that his father Chandrababu Naidu was working hard to develop the State despite having no office in the temporary capital. He said that the government in the last three years had mobilized over Rs 1.35 lakh crore investments to the State. He felt that Jaganmohan Reddy, instead of supporting the government was creating hurdles for the government at every stage. He dared Jaganmohan Reddy for an open debate on the developmental initiatives of the government.
However, the challenge had caused jitters for the YSR Congress as the leaders while refusing to accept the challenge try to find fault with Lokesh. The YSR Congress spokesman Ambati Rambabu wanted the TDP to accept CBI probe into the corruption charges against the government. He discounted the open debate and said that the debate would not serve any purpose but wanted the TDP to accept for the CBI enquiry.
Former minister and YSR Congress senior leader K Pardhasaradhi also discounted the challenge by Lokesh and asked Lokesh to tender open apology for his charges against Jaganmohan Reddy. He dared the ruling party leaders to come for debate on Polavaram and Pattiseema projects.