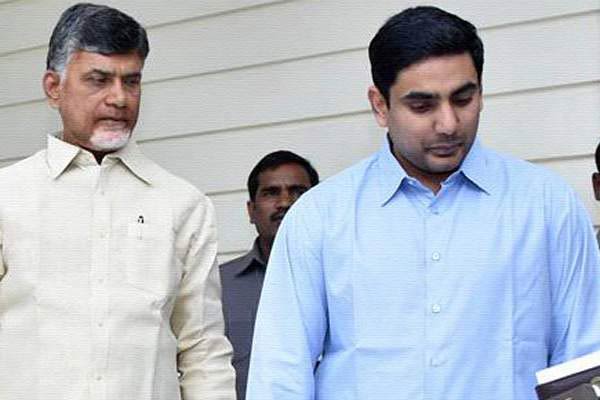 Though Andhra Pradesh Chief Minister Chandrababu Naidu earlier showed interest to make his son Nara Lokesh to contest from local bodies constituency of East Godavari in MLC polls, later he has reportedly decided not to take risk. Fearing any contest may leads to uncertainty, Lokesh is now set goes to Legislative Council from MLAs or Governor's nomination options.
This clarification from the Chief Minister has raised hopes of aspirants for this seat in the district. Sitting MLC Boddu Bhaskara Ramarao, whose term will be completes by May, is seen in confidence to get his re-nomination. However, many leaders who are working since a long are questioning the rationality of accommodating a `defector' for second time, as he had left the party when the party was in opposition.
A section of the party leadership, who are making sincere efforts to prevent him from getting party's re-nominations are said to be first succeeded in convincing Lokesh to contest from here. However, party supremo Chandrababu Naidu who had endorsed this idea in the beginning, now went back to avoid any risk to his son.
The predominant Kapu community in the party insisting one among them should be fielded in view of Mudragada Padmanabham's challenge to the party. In this regard former minister Chikkala Ramachandra Rao and former minister Metla Satyanarayana's son Metla Ramana Babu are said to be frontrunners.
On the other hand, party senior leader Ganni Krishna, who didn't get any official position till now, is also making his claim. Both the district ministers Yanamala Ramakrishnudu and N Chinna Rajappa are backing Bhaskara Ramarao's candidature.
Selection of party candidates in the neighbouring West Godavari district is likely to influence candidate selection here. If no Kapu candidate is selected from West Godavari, Chief Minister will be forced to prefer a Kapu from here.