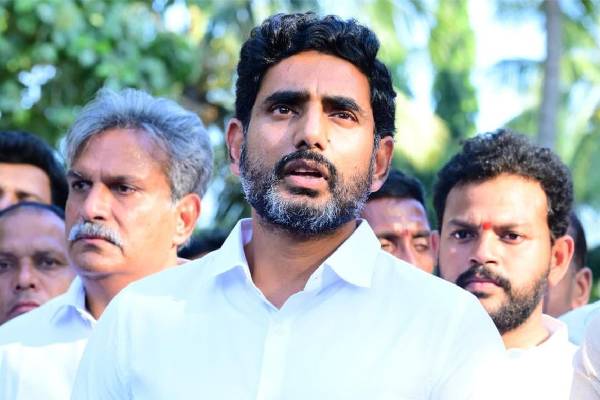 TDP general secretary, Nara Lokesh, on Thursday demanded that the dues of the fee reimbursement for the students be cleared immediately.
Lokesh said that the future of the students is in the oblivion as their fees have not been paid yet though the academic year started several months ago. Since the pending dues of the fees for both degree and post-graduate students are a whopping Rs 1650 cr, the colleges managements are not allowing their students to appear for the examinations while those who have completed their studies the managements are not issuing the marks lists, he said
Those who want to pursue their higher studies, those who are in search of employment and those who are in the middle of their degree courses are facing untold hardships as their marks lists are still with the colleges, Lokesh said.
Keeping in view the future of lakhs of the students, the fee dues should be cleared by the State Government immediately, he stated.
"Your Government, which has already made it clear that the Rs 600 cr dues for the 2020-21 academic year will not be paid, has to clear the dues of Rs 600 cr as the fourth term fee for 2022-23 academic year. Also, another Rs 450 cr dues have been pending for the past four years,"Lokesh said.
During the TDP regime fees were reimbursed even for the post-graduate courses but after the YSRCP came to power this has been discontinued, he added.
The State Government which has been campaigning that the whole fees of all the students are being reimbursed through Vidya Deevena and Vasathi Deevena schemes has not paid the fees in time to any educational institution, Lokesh pointed out.
The students and their parents are under heavy pressure as the colleges are forcing them to clear the dues of the fees, he said.
Lokesh made it clear in the press note that it is nothing but cheating the people by claiming that the State Government is paying the entire fees through Vidya Deevena scheme without showing in any account the Centre's contribution of 60 per cent of the fees of the SC and ST students.
It is nothing but creating more trouble by stating that the Vidya Devena amount will be credited with the joint accounts of the students and their mothers, Lokesh observed.
Stop this kind of publicity and clear the fees dues immediately as the Vidya Devena and Vasathi Devena schemes are only useful for publicity but did not help in anyway to anyone, Lokesh remarked.