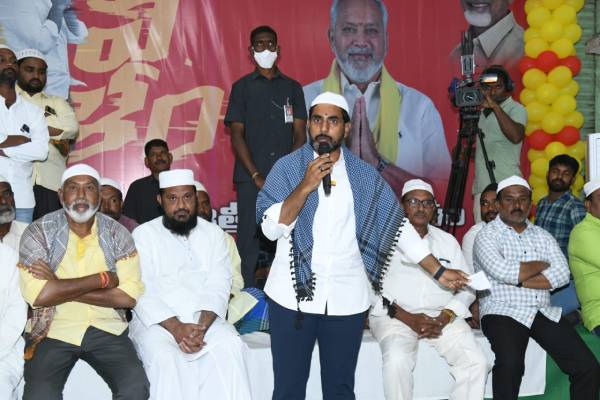 The State will witness huge investments within 100 days of the TDP forming the government again, said party general secretary, Nara Lokesh, on Thursday.
In a face-to-face programme with representatives of the Muslim community, organised at Damalacheruvu of Chandragiri Assembly segment during the ongoing pada yatra 'Yuva Galam', Lokesh said that during the YSRCP rule, investors are deserting the State leaving the youth unemployed.
"Once the TDP is back in power, I am assuring you all that within 100 days massive investments will be made in the State creating huge employment opportunities, including to Muslim youth," he said.
Promising the setting up of Islamic bank within one year of coming to power, Mr Lokesh said Karnataka model will be implemented to resolve the DKT pattas issue. Stating that the voters have elected Chevireddy Bhasker Reddy twice, he asked what are the developmental activities that the local MLA has undertaken in these 10 years.
At least 10 Muslims were done to death during the Jagan Mohan Reddy Government, Lokesh said that Ibrahim was murdered in daylight on the streets at Narasaraopet for fighting for masjid lands.
Lokesh said that the TDP never took any kind of negative measures even when the party had an understanding with the BJP. Soon after the TDP forms the government, all the problems of Muslims will be resolved on a war footing basis, Lokesh said.
Earlier, the representatives of the United Teachers Federation (UTF) and the Noble Teachers Association met the TDP national general secretary at the campsite of Gummadivari Indlu of Chandragiri segment. Lokesh said that the Jagan Government is targeting the teaching community and cases are falsely being registered against those who fight for their rights.
This is the only Government in the country that drafted teachers as security guards before liquor shops, Lokesh observed and promised them that all the cases filed against the teachers will be lifted once the TDP comes to power again.
The representatives of the teachers unions complained to Lokesh that the Pay Revision Commission (PRC) arrears, dearness allowance for 2022 have not been paid to them till now. Since the courses in the primary education and secondary education have been reduced it is seriously impacting the academic standards, they informed Lokesh.