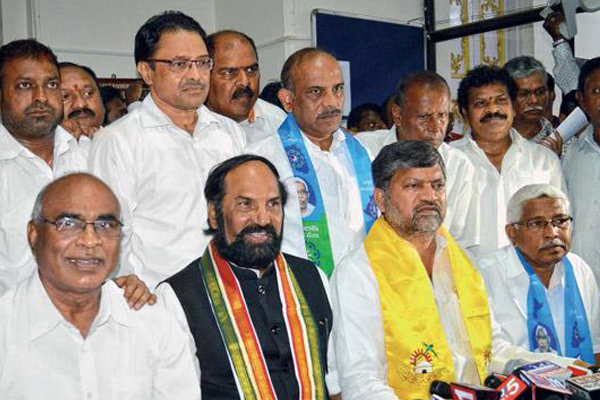 Congress has offered 12 seats to TDP as part of the ongoing seat sharing talks among Mahakutami partners in Hyderabad.
The offer comes amid TDP leaders' demand for at least 15 seats considering the fact that their party won 15 MLA seats in 2014 elections despite strong Telangana sentiment there at that time.
Because of compulsions of coalition politics, TDP leaders are said to have given word to Congress to consider their latest proposal of 12 seats amicably.
Meanwhile, Congress offered 8-10 seats to Kodandaram's Telangana Jana Samithi (TJS) as against TJS's demand for 18 seats. CPM is likely to get two seats.
There are still minor issues to be sorted out to finalise seat sharing. However, a broad understanding is arrived at among partners not to precipitate matters. Congress may contest 95 to 97 seats as against 10 to 12 of TDP, 8 to 10 of TJS and two seats for CPM.
Mahakutami leaders have reached unanimity on candidates to be fielded in over 70 seats and the list will be announced as and when seat sharing talks conclude with mutual agreement.
Sources say that partners are dealing with seat sharing issues in a friendly atmosphere so that there will be no scope for any falling apart. Unity among Mahakutami partners is considered immediate priority in order to unseat what they call 'dictatorial KCR'.
To hasten the finalisation of seat sharing, a new committee is formed with Jana Reddy as its chairman with a mandate to complete the task by October 20.
On their part, Congress cadres are preparing for Rahul Gandhi's coming public meetings at Bhainsa, Kamareddy and Old City in Hyderabad. Several TRS dissidents will join Congress in the presence of Rahul. Congress leaders say that many TRS senior leaders are unhappy as they do not have self-respect in TRS and because of KCR's family-oriented approach.
TRS MLC Ramulu Naik is all set to join Congress but he has asked for Yellendu ticket in Khammam region.