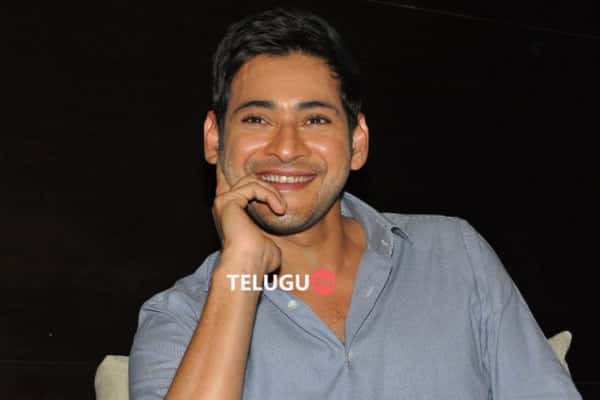 We've all heard this being said so often: Mahesh Babu is a funny man. Well, you've got to see it to believe it. He talks less in general but when the mood is right and probably good days in sight, he opens up like none other. And what comes to the fore is his satirical comic streak. That's just what happened as the actor spoke to the media ahead of the release of the much-awaited film Bharat Ane Nenu. Leaving everyone present in peals of laughter, the star left behind a memorable chat.
Starting off talking about his well-known trips with family that are customary post the release of a film, Mahesh shared, "We did have a great trip! We generally go after the release of a movie but this time I am quite happy with the result and that's why felt like going even before the film hits the screens. I am very excited, and I should say this is the best pre-release phase of my career. I have never felt so satisfied and happy before any film. The blockbuster vibe has already hit the whole team because the film has turned extraordinary."
Interestingly, the film's prime subject is that of politics, a topic that the actor has steered clear of in real life. And it does surprise many as to how he ventured into the theme and seems to have utterly enjoyed it too. In fact, director Koratala Siva recently revealed how Mahesh kept laughing throughout the process of the film's narration as he felt the role wasn't his cup of tea. "When Siva garu narrated the idea to me a year ago, it felt exciting but there was a sense of nervousness too. He told me that I'd be playing a Chief Minister. And yes, politics and I have been at an arm's length from each other. Add to that, this wasn't just any political character but that of an important leader and I should say this film was a major learning curve for me," he cites.
And at that juncture one wonders if the actor will ever venture into politics, considering his contemporary and biggest competitor Pawan Kalyan is on the verge of his own political journey. Says Mahesh with a smile, "The film has taught me a lot no doubt but that hasn't ignited any kind of political dreams within me. I am still going to maintain the distance. However, I have a sense of awareness now and feel really honoured to play such a role. People talk about the job being easy or hard, but what I realise is that representing people is a responsible job more than anything."
Preparing for the role was an important part of becoming Bharat, and as a part of it, the actor spent hours together watching parliamentary proceedings so as to get a hang of the body language and attitude of political leaders. But Mahesh gives all the credit to his director saying, "The bottom line is that it was him who molded the character to suit my body language. He went all out to write a script and dialogues that made me comfortable enough to get into the skin of the director, giving me confidence that there were no logical loopholes. That was so important. And I did watch my brother-in-law Jayadev Galla's proceedings in the parliament, but nothing out of the ordinary."
Even the though actor downplays the preparation, it is evident from the promos released so far that dialogue wise too, this movie is a heavy dose for the actor. "That's true. I haven't had such long dialogues that go on for pages and pages before and that part did seem tough, nevertheless like I said, I had a great support system," he says.
Shooting in the assembly set was a moment of realization and of course excitement for the actor, who says, "I still remember shooting for seven days in that set and even if we were shooting or not, we'd spend time in the set and we experienced it. It's been a wonderful journey."
Downplaying talk that the film is a satire or even has some hidden messages, Mahesh clarifies, "Our film will surely be appreciated by all politicians. We have made no attempt to indicate anything and it is an honest and straight political drama made from the heart."
In general CMs are portrayed as old men, clad in dhoti. It's very rare that we see a young CM, dressed in formal attire. Did that feel weird to the actor, and does he thinks he pulled it off? "Well, I like to think I did. At least that's the hope after working on a film for almost a year and a half," he jokes, adding, "I guess people have connected at some level, and that's why the response has been great."
After going into the depths and intensity of a character, Mahesh shares it's not easy to switch off. "That's one reason I even took the quick holiday with family after quickly finishing my dubbing as well," he reckons.
Even as he is pushed to speak about the political scenario and asked if the film will make an impact, he reflects, "I won't comment on politics for sure. However, it's not easy to say if a film will influence or not. At the outset, our film has a message and is a pakka commercial caper. The CM dances and sings too (laughs). The audiences will surely be attracted to the political aspect of the film."
While it might seem that the actor is under pressure to deliver a hit after a series of flops, the actor shares, "When won't we want to deliver a hit? If it was in my hands, I'd want every film of mine to be a hit. But this time around, the confidence is quite high. I remember the narration of the film being of five hours and every scene sounded exciting. All that has translated onto the screen."
Meanwhile, Mahesh reflects upon how comparisons to his father have cropped up. "After the release of the First Oath, many people started comparing our voices. Someone wrote about how we might have changed the voice digitally," he says with a laugh adding that it's not really possible. "Maybe the similarity was because I have never said such dialogues while he has done it in several of his films," he says, adding that maybe there was a subconscious influence but not a purposeful attempt to imitate.
Even as he discussed such interesting issues, it's interesting how he adds his own flavor of humour once in a while to lighten up the mood. Citing one major joke by the actor, he says talking about doing "experimental films", "Inka experiment cinemalu chese patience ledu.. Nannagari Fans intiki vachi kottese la unnaru (I don't have the patience to do experimental films… It's possible my father's fans will come home and hit me)."
But the best is surely this one: Speaking about how the film's producer D.V.V. Danayya had approached him way back in 2002 for a film, he said, "Back then, they had just launched the new Rs 1000 note and he had come to meet me on the sets of Murari in Rajahmundry to collaborate for a film. He mentioned to me that he'd pay me an advance with the same notes. And now, we are collaborating after the notes have been demonitised."
– Pranita Jonnalagedda
Telugu360 is always open for the best and bright journalists. If you are interested in full-time or freelance, email us at
Krishna@telugu360.com