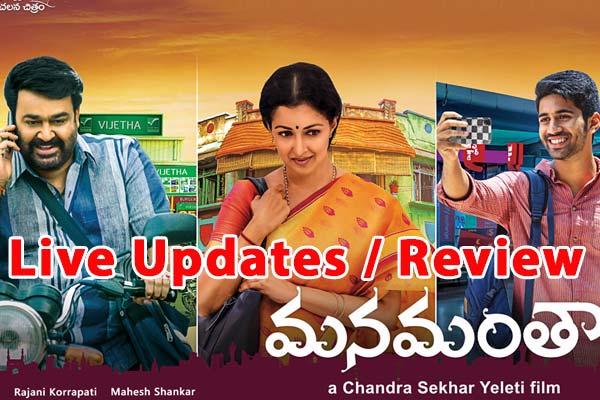 Manamantha Review
Telugu360 Rating 3.25/5
Chandrasekhar Yeleti has ushered in a new age era in Tollywood era with "Aithe" and continues to make films with stories that resonate well. His films had stories with clearly-etched out characterizations, meaningful storyline, remarkable performances and screenplays that are worth a million buck in Film Studies. "Manamanthaa" built more excitement with a star-cast aced up with the complete star Mohanlal and a slew of newcomers. The film combines four stories of commoners who are searching for happiness in their lives and eventually come to the crossroads of life as their desperation takes them to course of actions that is far-removed from their worlds. There is a slow buildup in the first half, a lovely twist in the interval and a dazzling closure with an even more stunning climax. The final output is deeply satisfying and the ending worthy of a great master in screenplay and story-telling.
What's the story all about?
There are four characters in the film – a high-school kid who wants to help a street kid beat poverty with education, a Supermarket Manager who wants to compound his frustrations and incompetence with pursuit of success at any costs, a studious youth who gets distracted from his academic goals because he fell for a cute girl and a housewife who is lost in a sea of materialistic desires which never seem to make her happy. Reminds you of films which came in the past like "Vedam" and "Chandamama Kathalu" but the screenplay is as usual arresting and worthy of a watch. In 140 minutes, the director steers all the four stories towards a huge build-up that has an undercurrent of message from the Bhagwad Gita ("Swadharmemi Dhanam Shreyahaa Paradharmo Bhayamayahaa..Stay true to your own self, any other pursuit will bring misery and unhappiness). The beauty of the story is that there is a blinding surprise which comes minutes before the closing bell that elevates the normal story-telling to a different level. While the stories are not unusual, there is a twist in each tale similar to the short-stories of masters like O'Henry and Guy De Maupussent which sizzle in many of the episodic twists given by the director.
How is the characterization, direction and performances?
The characterization is most complete with Mohanlal and he carries the film on his shoulders with a performance that shows his class and mettle. Even though it is a straight film in Telugu with dubbed versions in Malaylalam and Tamil, you get a feeling you are watching an original Malayalam film with a story that begins uncomplicatedly but then the law of unintended consequences takes over midway. Mohanlal has last acted in a straight Telugu film called "Gandeevam" in 1994 and later came back in some films by RGV here and there. It is good to find such a powerhouse of talent come in another breezy role which has all the shades of a complete actor with many variations. That he dubbed in his own voice with Telugu diction for 76 hours is a tribute to the Superstar's dedication to the craft and the medium. The story of Viswhant, the youth who loses his focus in life is the weakest characterisation while the school girls's is a rare blend of innocence and curiosity personified. Gautami's role is a wonderful reprise of a yesteryears' heroine who still breathe fire on screen with their effortless portrayal. Her performance is most nuanced and brings a completeness to the script in the end. Co-star Oorvasi is meant to make us laugh with her stupidity, she continues to bring out laughs but comes with an additional burden of irritability as always. Some of the fading artists of silver screen like Chandramohan, Gollapudi Maruti Rao and LB Sriram make a subtle but evocative comeback. If only our import-intensive Telugu Film industry takes note, there is always talent within who can tug at your hearts with their acting prowess and finesse.
Exclusive: Baahubali 2 overseas deal is official, putting all rumours rest
The direction of Yeleti always is a revelation. He is a wizard of writing precise characters and pace them up to the demands of a great story with many layers and multiple schisms. How he drives the story till interval and how he packs a punch in the climax is going be the main talking point of the film without breaking suspense that gives away the story. His films always tested new genres while registering his command over the medium and it is unfortunate it required a legend like Mohanlal's endorsement rather than our hackneyed heroes of Tollywood. Except Gopichand, Manchu Manoj and Jagpathi Babu, there are still no takers for Chandrasekhar Yeleti. What an irony! The cinematography and music has been consistent with the quality of direction. Since there is less scope for songs, the relief comes but rarely in the film which is what makes the film a tight leash in the first half with slowness that suggests a breakout at interval. Mahesh Shankar's BGM is better than his music and it is a surprise why Kalyani Malik is missing in the film. Nandamuri Taraka Ratna's cameo is good and a key factor in climax resolution. Gautami's act in the end smack of some male chauvinism that is built into our filmmakers'sensibilities.
The verdict:
You don't expect regular formula fare in Chandu's films or Mohanlal's films. But if you like meaningful cinema and love to watch an honest film with humanistic sensibilities in which the legend Mohanlal stars, go for it. You won't be disappointed.
Manamantha Cast & Crew :
Release Date : August 5, 2016 (Friday)
Written by & Director : Chandra Sekhar Yeleti
Producer : Varahi Chalana Chitram
Music Director : Mahesh Shankar
Starring : Mohanlal, Gautami, Viswant Duddumpudi and Raina Rao