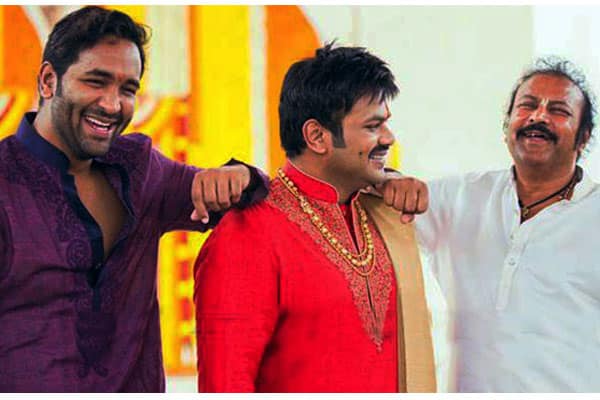 Like Mega, Nandamuri and Akkineni families, Manchu family led by Mohan Babu has also established some popularity for themselves among Telugu audience. Carrying the legacy of Mohan Babu are his sons Manchu Vishnu and Manoj. In the initial days, both Vishnu and Manoj showed some promise and looked like they are going to assume the mantle of their father. But, they couldn't make a visible mark in Tollywood. Audience have thoroughly rejected their lacklustre films.
What is more striking is that their films are ending without a trace at the box office despite getting decent talk and reviews. The poor show of Mohan Babu's Gayatri, which also has Manchu Vishnu in a crucial role, lends credence to the fact that audience is turning a cold shoulder to Manchu family's films.
Gayatri, which opened in cinemas last Friday, managed to get lukewarm reviews from all corners. The film generated good buzz after the impressive trailers featuring Mohan Babu in an intense role was unveiled. The team has aggressively promoted the film. Despite all these positives going its way, Gayatri is now heading towards becoming one of the biggest disasters in recent times. Embarrassingly, Sai Dharam Tej's Inttelligent, which has been rated very low by audience and critics, is faring better than Gayatri.
Looking at the disappointing run of Gayatri, it is clearly evident that audience is not interested to watch Manchu family's films irrespective of the content with which they are made. One of main reasons why Manchu family is failing to attract audience is they have delivered back to back low quality films. Their poor track record is turning out to be a big liability for every new film and hurting its box office performance.
Vishnu is trying his best to impress audience with different films but couldn't taste success. Manoj's career has completely fizzled out with successive flops.
It is time for Manchu heroes to reassess their careers and find a way to impress audience. They have to come up with sensible content that appeals to all sections of audience. They have to select fresh scripts which have scope for entertainment and they should stay away from unnecessary controversies to restore some faith among audience. It is time they reinvent themselves. Otherwise, the future of Manchu family looks very bleak.