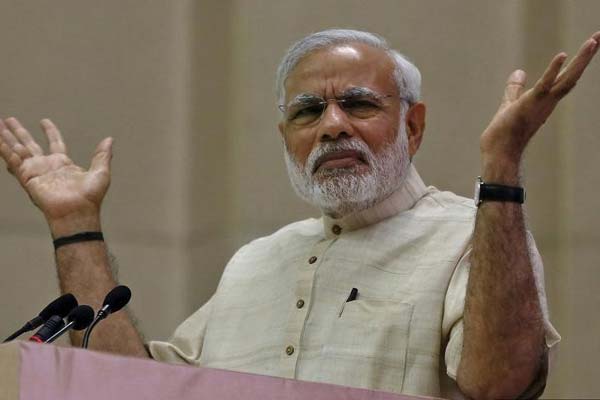 When deceased Hyderabad Central University researcher Rohith's mother Radhika, his sister Neelima and brother Raju expressed dismay over the silence of Prime Minister Narendra Modi for five days over the death of their valued family member, little did they know that the Prime Minister was being politically correct.
Narendra Modi, popular for his shrewd political dexterity in dealing with people and situations, knows that the landscaping for blurting out his reaction to Rohith's suicide was complete and that no lose ends were left. It was silent period until then.
Enough of controversy was raked up over the caste of Rohith, and his mother. His father came in front of vernacular TV channels claiming that he did not belong to a scheduled caste, while his mother asserted that she was born as an SC, adopted by a 'vaddera' family and married to a person hailing from 'vaddera' community, but divorced him and lived and reared her three kids as SCs.
Well, this is not the issue here. There was surely a political potboiler that worked on the sly to raise this dust around Rohith's caste with a view to insulating a few among the powerful and the influential. Enough water had flowed down the drain in the Hyderabad Central University over the political and administrative and casteist equations of all.
The matter of letters by his colleague Bandaru Dattatreya to another Cabinet colleague Smriti Zubin Irani about the "extremist and anti-national" activities of certain students, including Rohith, and her ministry's letters to the Vice-Chancellor of the HCU university may have surely been brought to the attention of Modi, according to informed sources.
However, Modi gave a quiet go-by to the deadly correspondence that was mainly being pointed out as the trigger for Rohith's suicide by the Ambedkar Students Association.
The Prime Minister has an uncanny knack of kindling emotions of all hues, apart from those ignited by the Bharatiya Janata Party. And, India did not have a helmsman who could play so much to the gallery, while taking on his political detractors in its recent history.
Modi doesn't mind packing emotion and choking his voice to strike a sentimental chord. As the sentinel of the Indian Constitution's conscience keeper, Modi wants the people every now and then to know that he is a man with human emotions and feelings. That he stays alone at 7 Race Course Road official residence of the Prime Minister is a different story, however.
Upon his election as the leader of the Bharaitya Janata Parliamentary Party (BJPP) on May 20, 2014, Narendra Modi kissed the green carpet on the pink sandstone steps of the Parliament building. He won half the battle there. The remaining half, he accomplished when he broke down into tears and took a pregnant pause and drank water to fight tears and break his silence and restarted the speech that was intercepted by the choked voice, the same day.
He had said: "Can a son do any favour by serving the mother? Not at all! Like India, BJP is also my mother. A son never does any favour. He only serves the mother in a dedicated manner," referring to L K Advani's words that Modi had done a favour to the BJP. In doing so, how many birds within and outside the BJP did he target with just one proverbial stone isn't beyond anybody's guess.
Demonstration of emotional quotient is always perfectly timed by Modi. He chose a foreign land to do it for a second time. Modi broke down in front of Mark Zuckerberg at a Facebook town hall in Melno Park, California, USA on September 28 last year. In response to a question, Modi couldn't control his emotions while saying: "maa ne ados pados logon kaa gharon mein barthan dhoyaa," (That his mother cleaned cooking bowls to raise her family) and concluded his Q-A session.
Then the sentiment of his soft-heartedness came to the fore on January 22 when he was delivering an address at B R Ambedkar University in Lucknow. "Leaving politics aside, more than anything else a mother lost her son. I share and feel her pain," said Modi, speaking for the first time on the suicide that has taken the country by storm. "Rohith's parents lost a gem," he added.
But the bereaved family says tears are no solution, but appropriate actions are.
Would you recall popular anchor Annu Kapoor turning emotional and breaking down in Antakshari in ZeeTV on completing milestones like 50th or 100th episodes or on national festivals when patriotic numbers were rendered?
Telugu360 is always open for the best and bright journalists. If you are interested in full-time or freelance, email us at
Krishna@telugu360.com