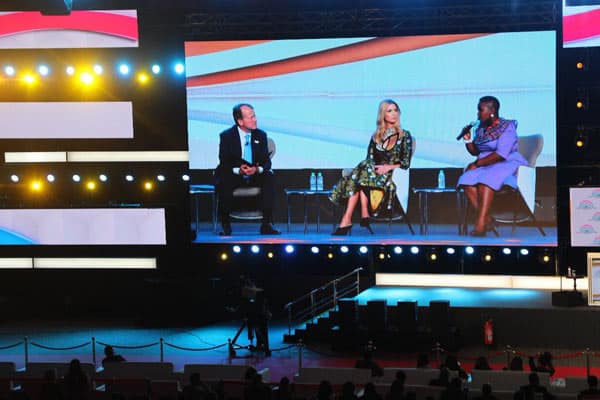 Ivanka Trump, daughter and advisor of US President Donald Trump, on Tuesday said much remains to be done with regard to equitable laws for women in many developing, as well as developed countries.
Speaking at the inaugural session of the Global Entrepreneurship Summit (GES) here, Ivanka said: "When it comes to equitable laws, while many developed and developing countries have made tremendous strides, there is still much work to be done."
She highlighted that in some countries, women are not allowed to own property, travel freely, or work without the consent of their husbands. In some other countries, the cultural and family pressure is so great that women do not feel the freedom to work outside the home.
"Our administration is striving to promote greater opportunity for women around the world, both through our domestic reforms and our international initiatives," she said.
She also said that when women work, it creates a "multiplier effect", and leads to more reinvestment in families and society.
"When women work, it creates a unique multiplier effect. Women are more likely than men to hire other women, and to give them access to capital, mentorship and networks. Women are also more likely to reinvest their income back in their families and communities," she said.
She also lauded Prime Minister Narendra Modi for his belief that progress of humanity is incomplete without the empowerment of women.
"Just consider, if India closes the labour-force gender gap by half, your economy could grow by over $150 billion in the next three years," she said.
Ivanka Trump also narrated stories of women entrepreneurs who used technology to change lives, including that of Rajlakshmi Borthakur from Bengaluru, who invented a smart glove that predicts, manages, and detects different diseases and disorders using Artificial Intelligence.
The gloves were invented by Borthakur after her son started getting seizures at a young age. Now her company, Terra Blue, aims to make specialty healthcare accessible in even the most remote places in India.
She also mentioned the stories of Dara Dotz from San Francisco, who co-founded Field Ready to provide life-saving supplies through 3-D printing and Reyhan from Azerbaijan, a 15-year-old who founded a company that harvests energy from rainwater.
Telugu360 is always open for the best and bright journalists. If you are interested in full-time or freelance, email us at
Krishna@telugu360.com