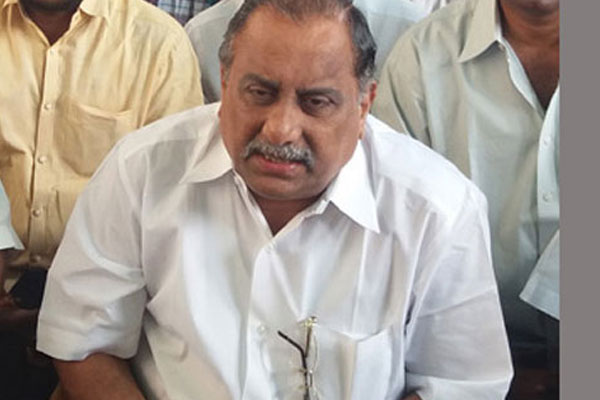 Having failed to take up a protest padayatra twice in Konaseema of East Godavari district, demanding BC status for Kapus, due to denial of permission by police, Kapu patriarch Mudragada Padmanabham seems to be adopting a new strategy by decentralising his agitation, by taking up agitational programmes in various districts, every month.
He started implementing his new stretagy by taking up one-day Kapu Sathyagraha Deeksha at a function hall in Kurnool yesterday. On this occasion, he came out heavily on Chief Minister Chandrababu Naidu, accusing him of not fulfilling his poll promise and every time adopting delaying tactics.
He recalled that he had earlier promised to fulfil his promise by August, 2016. "We are demanding the government to fulfil its own poll promise. Had you not made this promise in 2014 polls, we may not come to streets questioning you", he said in a desperate tone.
The Kapu patriarch said that they have decided to hold agitations in the state every month to build pressure. He said that their future course of action will be decided on March 26 at a meeting with the elders of the community from all the districts.
The former minister recalled that Naidu himself vowed to include Kapus in the BC list during his padayatra and election campaign in 2014. Later assured that he will send a delegation comprising labour minister K Atchan Naidu and party's state president Kala Venkat Rao to central government for getting a consent over the demand of inclusion of Kapu, Telaga, Balija and Ontari communities in BC category.
Naidu had also stated that this would be discussed during assembly sessions and the same would be sent to the central government for including in schedule No.9, he added.
Since then, he wondered that there has been no response from the TDP government over this issue. After coming to power with the support of Kapus, he lamented that Naidu went back on his words. He made it clear that only through protests the demand can be achieved.