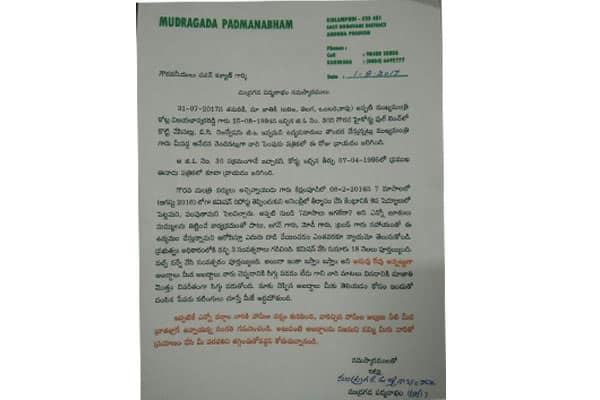 A day after Chief Minister Chandrababu Naidu held discussions with Jana Sena chief about Kapu reservation, Mudragada Padmanabham on Tuesday wrote an open letter to Pawan Kalyan.
The Kapu leader noted that a biased Telugu daily wrote that CM expressed anguish over the demand for Kapu Reservation with Kalyan.
Andhra Jyothy reported, Chandrababu informed Kalyan that the GO (No. 30) issued by the then Chief Minister Kotla Vijay Bhaskar Reddy of Andhra Pradesh was struck down by high court as it had procedural gaps. So, with the help of Manjunath Commissions report the government wants to take forward the Kapu reservation without any loopholes following a process.
Mudragada cited a High Court judgement which says that the GO No 30 issued by the government was valid.
He wrote that Minister Atchannaidu had said on 8Feb2016 that Kapu reservation would be implemented within seven months (August 2016) of receiving BC Commission's report. He said that it's been three years since the TDP came to power and 18 months since Commission was appointed, yet there has been no progress.
Furthermore, he said that the government has been commenting that they taking support of Jagan, Modi and Trump for the Kapu agitation. He said that the government is blatantly telling lies and asked the Jana Sena chief not to heed to Chandrababu's words.