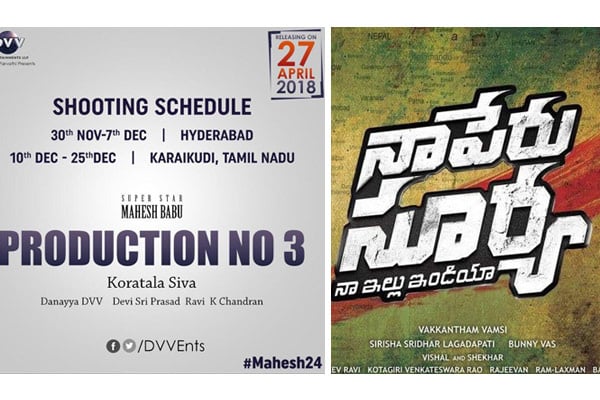 Bharat Ane Nenu Vs Naa Peru Surya
It looks like the makers of Mahesh Babu's upcoming film Bharat Ane Nenu and Allu Arjun's Naa Peru Surya are in no mood to back down on April 27, 2018 box office clash. Both production houses have decided to go head on and repeatedly affirming the release dates.
Naa Peru Surya producer officially announced on the first day shoot that the film will release on April 27 as Summer treat. In an unexpected twist, Bharat Ane Nenu producer locked the same date thinking that NPS will move to another date. But, NPS team is reluctant to change their decision. The talks between the two producers to resolve the issue didn't yield positive outcome.
Once again, both production houses are reiterating that they are arriving on April 27. BAN producer has released the upcoming shooting schedules and confirmed the release date again. Immediately,NPS team updated the film's progress and asserted that the film is slated to hit the screens on the same date as announced earlier.
So, both NPS and BAN producers are hellbent to release the films on April 27,2018. It remains to be seen who will finally budge and avert the clash at the box office, what otherwise might impact both the films.