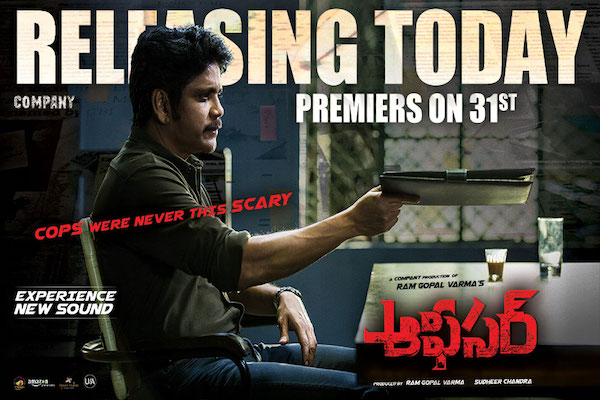 After two decades, Nagarjuna and Maverick Director Ram Gopal Varma duo teamed for upcoming Action Thriller "OFFICER". The duo is famous for films like 'Shiva', 'Antham', 'Govinda Govinda' and 'Drohi'.
Officer, touted to be an intense cop drama is releasing in theaters worldwide on June 1st with premieres on Thursday, May 31st in USA releasing with regular theatrical prices.
As the film is enabled on Movie Pass app, movie pass subscribers can use it officially. If any theater not listed the title, you can use unlisted option.
While Nagarjuna's penchant for interesting scripts is known, RGV is known for his flair with cop dramas through the series of hit cop films he gave us in the past.
Ram Gopal Varma revealed that Officer was inspired by an IPS officer, KM Prasanna, from Karnataka who was appointed as the chief of a Special Investigation Team to look into a reputed cop in Mumbai.
"It's the details that IPS officer K M Prasanna personally told me in 2010 that finally became the story of Officer. Nagarjuna is playing Mr Prasanna, who at present is the Additional Commissioner of Police, Crime Branch, Mumbai,".
OFFICER is scheduled to release with English sub-titles worldwide on June 1st with premieres on Thu, May 31st 2018.
CLICK HERE!! for the theaters list.
CineGalaxy, Inc.
Email: movies@Cinegalaxy.net
Website: www.cinegalaxy.net
Press release by:Indian Clicks, LLC