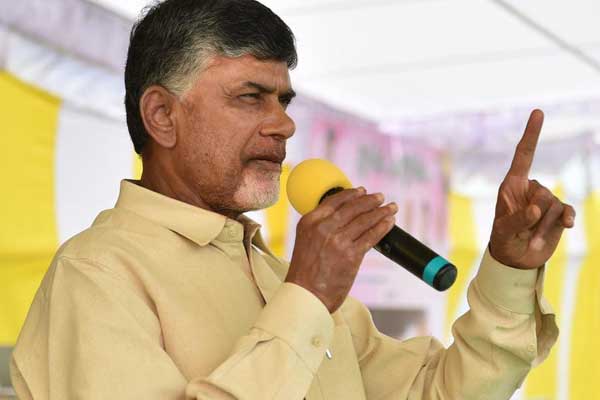 TDP national president and Andhra Pradesh chief minister N Chandrababu Naidu responded to KCR's remark that Naidu had no business to campaign in Hyderabad's municipal elections. The AP CM said as the national president of a political party, the TDP  had its own responsibilities towards people of Telangana as well.
Addressing first election meeting on Thursday at Patacheru of Hyderabad, Naidu said TDP enjoys close and inseparable relationship with Telangana. " The TDP was born in Telangana. The party relationship with Telangana and Hyderabad is unique," he said.
Launching what the TDP called a positive canvassing of party, Chandrababu Naidu sought to explain the people how he had struggled to enhance the status of Hyderabad as the global city.
"While it took four hundred years for the Nizams to develop Hyderabad, and 100 years for British to develop Secunderabad, the Telugu Desam party, in just nine years, transformed the City into a true global city," Naidu said. He listed out the works he took up as chief minister between 1994 and 2004 such as hi-tech city, ORR, flyover, genome valley, widening of roads, bringing of Krishna water etc.
Stating emphatically that he had not left the city , Naidu said he would remain with the people of Hyderabad and continue to safeguard their interests. " I was not able to visit the city because of pressure of works the new state imposed and the construction new capital , but not out of fear of anybody," he said.
Had the Telugu Desam party won the election in 2014, he would have ensured the completion of Metro Rain in three years, he said and asked the people ponder over as to why the Metro project was getting delayed.
Naidu confined himself to narrating how he had struggled for the development of Hyderabad and Telangana in past and after the formation of separate state.
While in past, the development of Hyderabad helped many sons for farmers become software engineers, now he had been talking about Telangana whenever he had visited New Delhi and met central ministers.
Dismissing the charge that he was scared of staying in Hyderabad and had hand in glove with somebody he said he was not a person to be browbeaten by rivals.
" I was not afraid of anybody. I was not afraid of Indira Gandhi, Rajiv Gandhi or Sonia Gandhi. Telugu Desam, which is the party of NTR, is synonym of courage," he said.
Naidu took strong objection to the removal of 26 castes from the list of OBC in Telangana. Talking about his friendship with Telangana chief minister, he said it was the relationship between two chief ministers. " I had invited KCR for Amaravati foundation laying ceremony and KCR invited me for Chandiyagam. Relations between two governments are different from politics they pursue," he said. Naidu hoped that the party would win majority in GHMC elections.
He asked the people of Patancheru to repeat their performance of 2014 in GHMC election as well.
Telugu360 is always open for the best and bright journalists. If you are interested in full-time or freelance, email us at
Krishna@telugu360.com