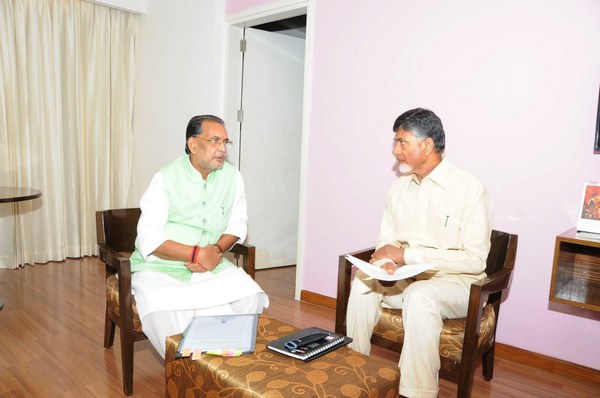 Chief minister N Chandrababu Naidu urged the centre to convert the new agricultural university being set up in Guntur district into a central university. On Monday, union agriculture minister Radhamohan Sigh laid the foundation stone for the new agricultural university at Lam, a village in the Guntur district. Union ministers Venkaiah Naidu, Ashok Gajapati Raju, Y S Chowdhary and many state ministers also attended the program. The agriculture university is being set up as the per assurance given in the Andhra Pradesh Reorganization Act-2014.
Speaking on the occasion, chief minister Naidu said Lam Agricultural university should aim high to become a global knowledge centre by associating itself with leading institutions across the world. He hoped that the university would have tie-up with universities and institutes of international repute to become an important university in country.
He said state government would develop the institute into a full pledged university in five years and had earmarked about Rs 1650 crore for it. Naidu urged the centre to explore the possibility of converting the Lam university into a central university. " I urge union agriculture minister to take over the university in order to run it as central agricultural university," he said.
Lam, a village near Gunture, has been chosen for the location of the agricultural university because of its Buddhist heritage. And it is in close proximity to the Amaravati capital city, which is also being developed with Buddhist theme. The is second agriculture university in the state, the first being Acharya NG Ranga Agricultural University.