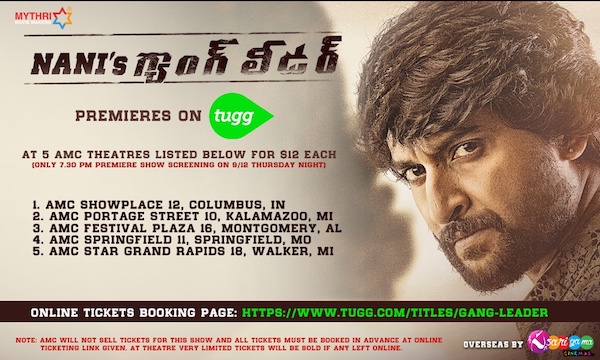 Mythri Movie Makers and Sarigama Cinemas have partnered with Tugg to give a wider opening to Nani's Gang Leader.
Devoted fans of Indian movies in the smaller cities of the US have to drive a few hours to go to a bigger city where their favorite movie is playing.
Tugg is a novel platform that aims to make it easier for the fans by bringing the movie to their own cities.
For the first time ever in Telugu cinema, Gang Leader will premiere on Tugg at AMC locations at the following 5 cities: Montgomery AL, Columbus IN, Kalamazoo MI, Grand Rapids Walker MI & Springfield MO. There will be only one premiere screening on 9/12 Thursday at 7.30 pm. Do not miss it!
Tickets are priced at $12 only and you can purchase tickets at https://www.tugg.com/titles/gang-leader
According to Pablo Gonzalez, Founder & CEO of Tugg, "We are keenly aware that Telugu audience are the biggest movie lovers who always go the extra mile to get a cinema experience. We are excited to premiere the highly anticipated Gang Leader as the first Telugu movie to launch on Tugg."
CLICK HERE!! for Gang Leader USA Schedules.
Press release by: Indian Clicks, LLC