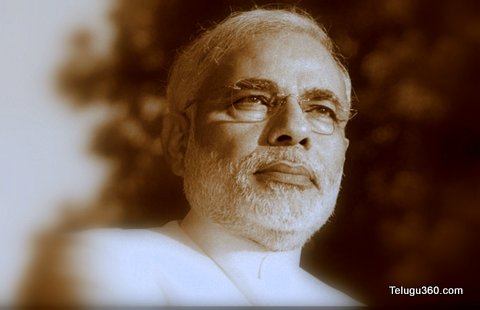 Narendra Modi is the current prime minister of India. He is regarded as one of the most popular statesmen of the time. Narendra Modi is primarily responsible to bring NDA government to power with a landslide victory. His name 'NaMo' became a chant amongst the youth of India much before he was declared the prime minister candidate by the opposition NDA in 2014.
Born on September 17, 1950 in the then Bombay State, Narendra Modi helped his father sell tea at local bus stations. He later set up his micro tea-stall at a bus station. Modi always had a keen interest in rhetorics. After completion of his secondary schooling, Modi was fascinated by the ideologies of RSS that made him join as junior cadet.
Modi was against arranged marriage and left his home, when he was engaged to Jashodabehn, at a very young age. During this time, he traveled length and breadth of the country, visiting several mutts set up by Swami Vivekananda.
Modi became full time 'prachaarak' of RSS at a later stage of his life. He completed degree in political science through distance mode in 1978 when he became a regional organizer of RSS.
When Indira Gandhi declared emergency in 1975, RSS was banned. Modi went underground and printed pamphlets against the government. Noticing his keen interest in political affairs, RSS assigned Modi to BJP in 1985.
Modi worked closely with LK Advani and Murali Manohar Joshi during 'Ayodhya Rath Yatra.' In 1998, Modi's strategies in Gujarat enabled the party to make a clean sweep in the state. When the then chief minister Keshubhai Patel's health deteriorated, BJP looked for an alternative candidate to replace the CM. Modi's name surfaced and thus he was made the chief minister of Gujarat in 2001.
When Modi's government was accused of alleged involvement in Godhra massacre, TDP and DMK parties demanded Narendra Modi to resign. Owing to these demands, Modi dissolved his government and went for elections in 2002. BJP made a clean sweep and Narendra Modi served as chief minister of Gujarat for three consecutive terms till 2014.
Witnessing the development in Gujarat, the youth of the country strongly advocated for Modi's sarkar at the Centre. Subsequently, BJP banked upon his popularity and made him the prime ministerial candidate.
For the first time, BJP won with absolute majority in 2014. However, it decided to form NDA Government. On May 26, 2014, Narendra Modi sworn in as the prime minister of India.