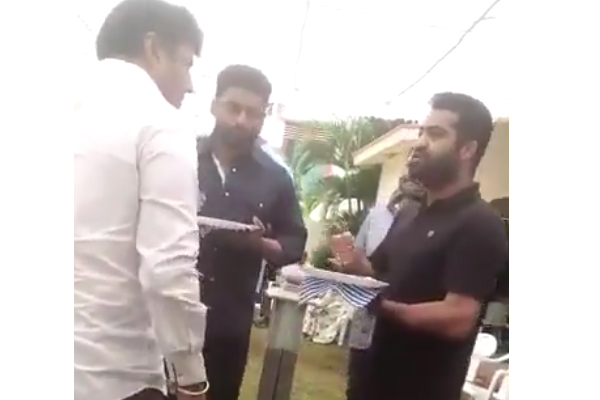 The sad demise of actor Hari Krishna is a heartbreaking loss for the Nandamuri family. Though Hari Krishna had distanced himself from Telugu Desam party, established by his father NTR, he got an emotional and befitting adieu from all the members of Nara and Nandamuri families.
What is heartening for both families after this loss is the bonding between Balakrishna and Hari Krishna's sons – NTR and Kalyan Ram. As soon as news broke out that Hari Krishna met with an accident, Balakrishna rushed to Kamineni hospital to see him. He emotionally broke down on hearing that Hari Krishna breathed his last. NTR,too, turned emotional and hugged Balakrishna to console him. Also, Balakrishna is seen bonding bigtime with both NTR and Kalyan Ram during a family gathering today in Hari Krishna's house. This video is now going viral in social media.
It is well known that all is not well between Hari Krishna and his brother Balakrishna since the last few years. Speculations were rife that Hari Krishna is not in good terms with NBK as NTR is being ignored by the latter's family. This has led to strain in relationship between NTR and Balakrishna which is evident number of times including the recent occasion when NTR was not invited for the launch of his grandfather's biopic which is being produced by NBK.
Now, with Hari Krishna's departure, it looks like Balakrishna has reconciled his relationship with NTR and family by putting an end to the rift which has separated them. While fans grieve the loss of Hari Krishna, the Babayi – Abbayi bonding will definitely come as a huge relief.