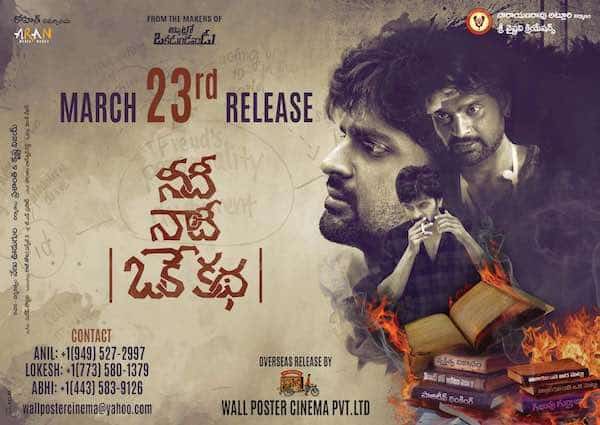 Needi Naadi Oke Katha has accumulated positive vibes with trending promos, catchy songs and theatrical trailer which raised the expectations on the film.
Sri Vishnu's performance, impressive dialogues, relatable scenes and situations to youth made Needi Naadi Oke Katha a movie to watch out for this weekend.
Click Here!! for the Theatrical Trailer.
NNOK is being appreciated by film celebs as well. Shekhar Kammula who happened to watch the film recently said NNOK is an important film connecting to the current youth situation. He appreciated the director for telling the sensitive story interestingly and Sri Vishnu for his high performance.
Wall Poster Cinema which is bringing the movie to overseas market have scheduled the premieres in more than 75 locations across USA on March 22nd with standard theatre pricing.
See you all in theatres from Mar 22nd onwards and thank you everyone for your support.
Click Here!! for USA Theatres List.
For overseas exhibition rights and inquiries in your City/State/Country, please contact the below:
Anil: +1 (949) 527-2997
Lokesh: +1 (773) 580-1379
Abhi: +1 (443)583-9126
Press release by: Indian Clicks, LLC
Telugu360 is always open for the best and bright journalists. If you are interested in full-time or freelance, email us at
Krishna@telugu360.com