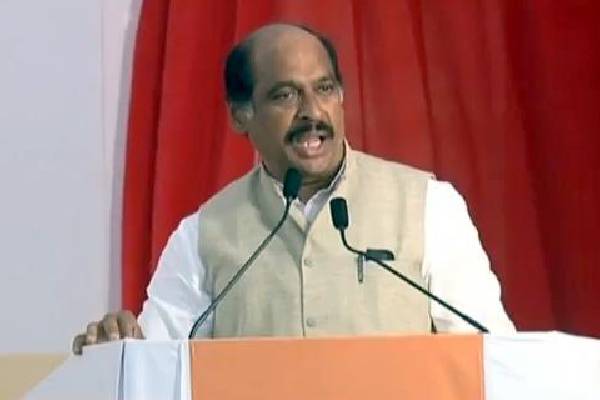 Newly-appointed AICC in-charge for Telangana Manikrao Thakare arrived in Hyderabad on Wednesday on his maiden visit to the state.
Telangana Pradesh Congress Committee (TPCC) president A. Revanth Reddy, Congress Legislature Party (CLP) leader Mallu Bhatti Vikramarka and other leaders received him at Rajiv Gandhi International Airport.
"Cordially welcomed our newly appointed AICC General Secretary Incharge for Telangana Shri.Manikrao Thakre ji at the Hyderabad airport today. Looking forward to working together in this crucial year," tweeted Revanth Reddy.
There was some drama at the airport as senior leader V. Hanumantha Rao staged a sit-in when the airport security stopped his supporters.
Thakare later reached Gandhi Bhavan, the state headquarters of the party. AICC secretary Bose Raju, Madhu Yaskhi Goud, Anjan Kumar Yadav, Mahesh Goud and other leaders welcomed him.
The AICC in-charge will be meeting a cross section of party leaders during the day.
The All India Congress Committee (AICC) on January 4 appointed Thakare as the new in-charge amid infighting in the party's state unit.
Thakare, a senior leader from Maharashtra replaced Manickam Tagore, who was shifted to Goa following complaints by a section of senior leaders he had been supporting Revanth Reddy and taking unilateral decisions.
A section of senior leaders had last month slammed Revanth Reddy for packing the party panels with his loyalists.
They had also announced to save Congress in Telangana movement, terming it a fight between what they called real Congress and the leaders who came from other parties. This was an open attack on Revanth Reddy and others who quit Telugu Desam Party (TDP) to join Congress a few years ago.
A day after senior leaders raised the banner of revolt, 13 loyalists of Revanth Reddy had announced resignations from party posts.
The crisis had forced the high command to send senior leader Dignvijay Singh to Hyderabad. He individually met the leaders from both the groups and based on the feedback received submitted a report to the high command.
Revanth Reddy had stated on January 4 that if the high command appoints another Aleader as TPCC president, he would carry him on his shoulders.
Revanth Reddy, also a MP, said he would work for the party without any post. He claimed that he always worked with discipline irrespective of the party he was associated with.