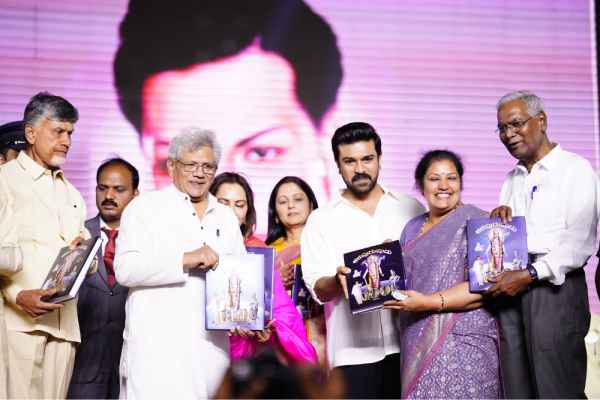 The Great N.T. Rama Rao Garu Is The One Who Put The 'Telugu' On The World Map… He Will Live As Long As There Is Telugu Cinema: Global Star Ram Charan
" Nowadays Telugu Cinema is being lauded in foreign countries. Everyone is praising South India Cinema. But, long back in those days, NTR Garu proved the power of our Cinema in those lands. We should never forget about those. We keep remembering those great achievements.", said Global Star Ram Charan.
Late Nandamuri Taraka Rama Rao Gari Centenary celebrations were held in a magnanimous manner at Kaithalapur Grounds, Kukatpally, Hyderabad. Several Film and Political celebrities graced the event. On this occasion, Ram Charan who attended the Centenary Celebrations Event remembered his bonding with NTR Garu. Reminiscing about meeting NTR during his childhood, Ram Charan says,
" I don't know where to start. His name is beyond all benchmarks and achievements. Nandamuri Taraka Rama Rao Garu is a Big Personality. More than we speak about Rama or Krishna, we keep thinking about them within ourselves. We shouldn't talk but experience such things. We should remember their achievements, and draw inspiration from their way of living. Walking in their footsteps gives us immense pride and happiness. Every artist including me who goes to the film set every day remembers his name. He made everyone aware and knows about What is the film industry? What is the Telugu film industry? to our neighboring States as well as the entire country and other countries too. The Great Legend N.T. Rama Rao Garu brings respect to our film industry among others. This Industry has such a great personality. It is a privilege for all of us to work in the Industry where NTR Garu belonged.
I met NTR Garu only once. I and Purandhareswari gari's son Ritesh used to go to skating classes as kids. We used to finish our classes by early morning 5:30 to 6:00. One day Ritesh asked me to go to his grandfather's house. He was a chief minister at that time. He has huge security. I felt that I don't even have the strength to say yes or no. I said okay. We both went from Purandhareswari Gari house by skating. We went to Rama Rao Gari's house by 6:30 AM.
I wanted to meet NTR Garu and take a leave from him. But, when we reached his house, He got up and readied. He is about to have his breakfast. As everyone is aware, He is having a big chicken piece at that age healthily. When he saw me he made me sit and offered tiffin. I felt I was lucky. I always cherish those moments of sharing breakfast with him. Thanks to Purandhareswari Garu for providing me with that opportunity. His name will live as long as there is Telugu Film Industry.
Conducting events like these is very very important to make the next generations remember his greatness. Thanks to Chandra Babu Naidu Garu for grandly organizing this function and Thanks to Balayya Babu Garu for inviting me. He always comes to our functions. Thanks to him once again. I feel proud to attend this event. I am very happy to meet all Nandamuri Fans. Jai NTR.", said Ram Charan