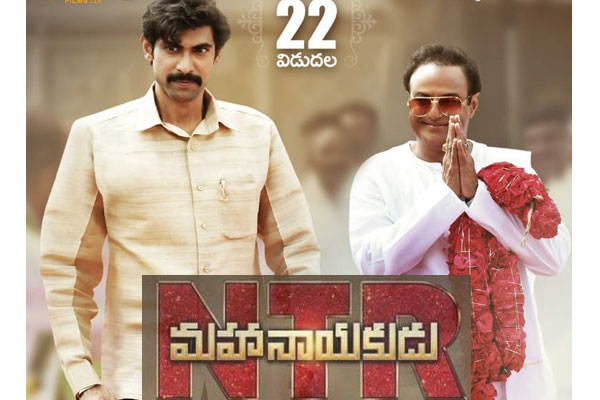 NTR Mahanayakudu review
Telugu360 Rating 2.75/5
Biopic on legendary actor NTR is one of the eagerly awaited films this year. NTR's son and actor Balakrishna is portraying the lead role and an array of prominent stars are played crucial roles in this biopic which is made in two parts. The first part, titled as NTR Kathanayakudu, traced the inspiring journey of NTR as actor. Let's see what the second half has in store.
Story :
Mahanayakudu begins as NTR designs TDP logo and takes whirlwind tour of Andhra Pradesh. Then NTR's Andhra wide tour in his Chaitanya Radham explaining all pro poor policies of NTR, which catapulted him to power are shown in good detail. After Nadendla Bhaskara Rao dethrones NTR, the latter regains the power with people support. The stort span covers only till here i.e. till 1984 when NTR regains power.
Analysis :
NTR Mahanayakudu titles are impressive with quick recap of NTR's life from childhood to marriage with a good backdrop song. Nara Devansh is cute as childhood NTR.
After titles, movie begins with NTR canvassing and coming to power. These moments are Deja vu for those who have grown up seeing those days. For youngsters , this is a good insight into flashback – a never before never after episode in Telugu politics. Nadendla dethrones NTR and Interval. First half is Good with 3 background songs , fast paced screenplay.
Second half is full of political drama showcasing how NTR regained power by fighting against Ram Lal and the mighty Indira. A keen eye can observe many characters from those days – Venkiah Naidu, Jai Pal Reddy, Adusumilli Jayaprakash, Nannapaneni Raja Kumari, Madhavi Grandhi among others.
While most of the film is based on true incidents , Chandrababu Naidu scenes are given heroic elevations. Rana excels as chandrababu. Vidya Balan NTR emotional scenes came out well. Except part where it is shown that NTR invites Babu to join the party, most episodes are in sync with timeline.
While director closes out the movie with sad death of Basavatarakam, criticism that he didn't cover the key episodes of NTR's political life – thumping victory in 1994, ensuing August crisis, will continue. May be at least the director could have taken a stand and at least glanced through those phases in NTR's life.
Performance wise Balakrishna excelled as NTR. Especially , in the public speech scene after being dismissed from CM post, and in the scene explaining his bonding with tarakam he did well.
Some dialogues by Sai Madhav Burra stands out
Cheppettollu vundaali. Lekapothe aaru kotlu vunna ontari.
Party ki glamour peddayana. Grammar nenu.
NTR is an emotion
Positives :
Recap of NTR's political glory
Balakrishna Performance
SaiMadhav Burra dialogues
Keeravani Music
Casting
Negatives :
Familiar Scenes
Sluggish at times
Verdict :
NTR Mahanayakudu is a decent political drama. Except highlighting Chandrababu Naidu as rescuer of TDP at that time , most of the scenes are true from history. And for people who have followed NTR's mentoric rise in politics – NTR is an emotion. Probably a political journey that will never be emulated.
Telugu360 Rating 2.75/5