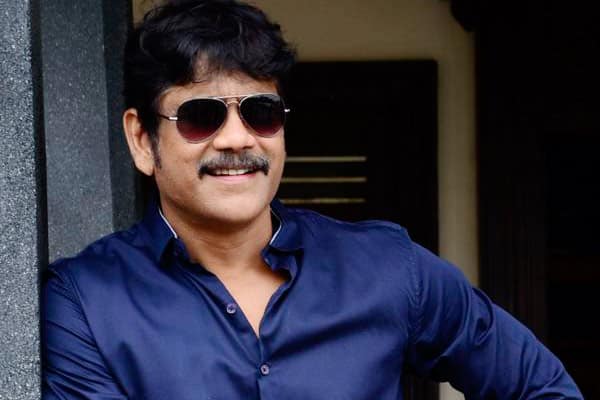 Veteran actor Nagarjuna travelled all the way to the top in Tollywood. With number of experiments, Nag is known to have introduced many actors, technicians and actresses to Telugu cinema. He is currently focussed on the careers of his sons Naga Chaitanya and Akhil. He even wrapped up the shoot of Raju Gari Gadhi 2 which has been aimed for Diwali release. On the occasion of his birthday, here is a short chitchat with the actor:
Hi Sir, Birthday Wishes to you.
Hi, Thank you very much for the wishes.
You sound quite busy this year?
Yeah, this year kept me completely hectic. Produced two films already this year and I wrapped up the shoot of Raju Gari Gadhi 2. I am busy now with the marriage arrangements of Naga Chaitanya. Looking of the production responsibilities of Akhil's Hello.
Updates about Raju Gari Gadhi 2?
Raju Gari Gadhi 2 has no connection with Raju Gari Gadhi. This is not a sequel and we are testing our luck with a fresh script. But the genre is same and hence we are using the title Raju Gari Gadhi 2. I loved my characterization because of which I signed the movie. I can read any person after speaking to him for ten minutes and this makes the film quite interesting. I met such people in real life too.
Please tell us about the character of Samantha?
Samantha will be playing a ghost in Raju Gari Gadhi 2. Both our characters have been well designed in the movie and I thank Omkhar for that.
We hear that it was you who titled Akhil's next film 'Hello'?
The whole movie unit has been left confused about the film's title and I felt that Hello would be an apt one. I immediately registered the title and the word Hello has an interesting connection with the plot. You will come to know about it after you watch the film.
Tell us about Hello?
Hello is an interesting film and it has a complicated. We are shooting for the film in never seen locales and the treatment will be completely fresh. Vikram is one of the most talented directors we have. We are spending a lot for Hello.
Your call on Yuddham Saranam
I watched the film recently and it is completely based on social media. Yuddham Saranam will stand as a milestone in Chaitu's career.
This year has been completely impressive for Tollywood. What do you say?
This year has been great for Tollywood. The audience have been supporting many impressive films. Hearing big things about Arjun Reddy. Will watch the film for sure soon.
There are talks that you are remaking Vikram Vedha?
I heard many good things about Vikram Vedha. Yet to watch the film.
Did you sign any new films?
I have not signed any new film. Kalyan Krishna is yet to narrate the plot of 'Bangarraju'. I am eagerly waiting to take a call on this.
Young actors have been quite successful as television hosts. What do u say?
Television is the best way to become close to all the sections of audience. That is the reason why I did Meelo Evaru Koteeswarudu. I loved Tarak's way of hosting Bigg Boss show. He is the same how I saw him in real life. His real character is visible in Bigg Boss.