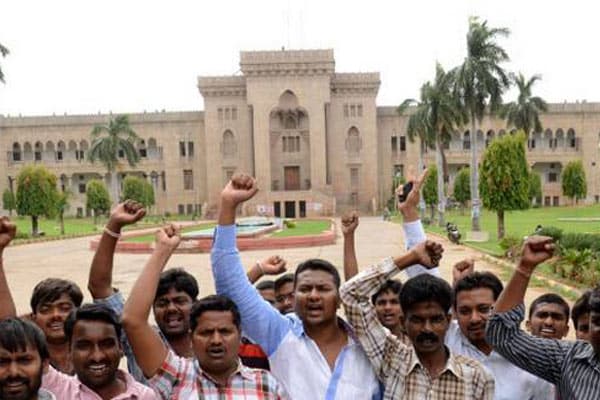 Student unrest returned to Osmania University, the hotbed of separate statehood agitations for decades, with vengeance. This time it is over a student suicide in his hostel but it has become a rallying point for opposition political parties and some student bodies to take on the KCR government's 'failure' to provide jobs.
A 21-year-old MSc physics first year student, E. Murali found hanging in the boys' washroom in his hostel on Sunday. A note found on him, according to the police, said: "Exams are round the corner and I fear I will fail. So I have decided to end my life."
As students gathered and started protesting, Prof Kodandaram, who was instrumental in galvanising students for separate Telangana earlier, and some Congress leaders arrived on the scene and in no time the OU campus erupted with student and political leaders linking Murali's suicide to state government's delay in issuing job notification. Some alleged that the suicide note was planted and the writing was not his.
While investigation is going on, the opposition is adding fuel to the charged-up atmosphere on the campus. Already, students are agitated over lack of jobs and their discontent is being exploited by opposition to attack the government inside the Assembly and outside of it. Chief Minister KCR's promise of employing all 'sons of soil' is proving hollow. After all, no government can find a job for every college or university student and the TRS government is learning it the hard way.
The opposition is turning the government's inability to create lakhs of jobs to its advantage to corner KCR. At a rally organised by Telangana Joint Action Committee (TJAC) headed by Kodandaram, on Monday, political leaders found a plank in Murali's death to launch their anti-KCR crusade.
At the rally, known as Fight for Jobs, jobless youth and students as well the opposition demanded the state government to immediately fill the vacancies and reminded the Chief Minister of his jobs promise.
Although it is touted to be a rally for jobs, it is said to be a testing ground for opposition unity ahead of 2019 polls to forge an alliance to take on the 'mighty' KCR.