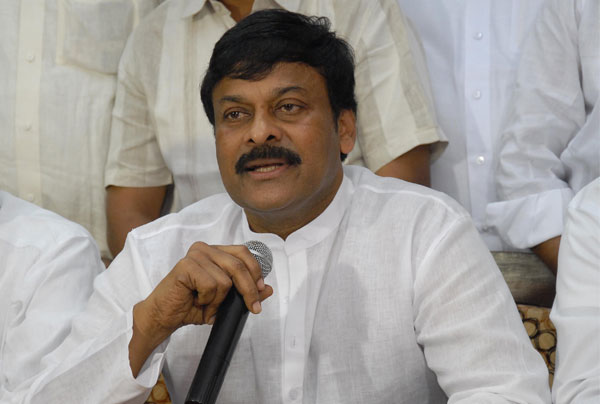 Grieving at the unprecedented deaths in the stampede at Godavari Pushkaralu this morning, Congress leader and Rajya Sabha member Chiranjeevi demanded that CM Chandrababu Naidu should resign owning up responsibility for the poor arrangements and his inability to organize the Pushkaralu in an orderly way.
He  squarely blamed chief minister Naidu for the tragedy in which about 27 people were killed.
He said Naidu's key adviser of Pushkaralu was inexperienced  and was lacking in administrative capabilities hence these accidents.
"Tears do not wipe off your responsibility and culpability" he told Naidu.
The incident exposed the inability and irresponsibility of the government. " Even though the CM publicised to celebrate the Pushkaralu on the lines of Kumbh Mela, but it lacked any scientific plan and execution," he said wondering.
"That the tragedy struck at the very first hour of the commencement of Pushkaralu was indicative of the failure of the government on all counts," he said asking what did CM Naidu do the all these days visiting Rajahmundry frequnetly when the arrangements were not in place.
"This is the result of the CM appetite  for propaganda rather than concrete commitment to ensure the success of the Puskharalu" Chiranjeevi said.
Chiranjeevi took strong objection to the CM style of functioning.  He said the CM tied down all the officials in numerous review meeting preventing them from doing the works assigned to them.
Referring to BJP leader Kanna Lakshminarayana's statement that Pushkarala arrangements were not up to satisfactory, Chiranjeevi said the statement was proven correct.
The former union minister expressed displeasure at how endowments minister Manikyal Rao was sidelined in the run up to the Pushkaralu.
" TDP leaders themselves vouchsafed that everything is being overseen by CM himself and no need to consult other cabinet colleagues. When the CM is alone responsible for the arrangements, he should own up the failure and step down," he demanded.
Chiranjeevi recalled how Chandrababu Naidu demanded resignation of the then chief minister YS Rajasekhar Reddy  when some people died in the stampede at the time of Krishna Pushkaralu.
Naidu should question his conscience in the light of his previous demand and take a decision on the resignation, he said. Chiranjeevi  said Rs 5 lakh exgratia was pittance compared to the loss of lives and  demanded  an exgratia of Rs 20 lakh for the bereaved families.
APCC president N Raghuvira Reddy also joined Chiranjeevi in demanding resignation of  Chandrababu Naidu.  They said a Congress team  will visit  Rajahmundry today to console the families of those who died in the stampede.
"