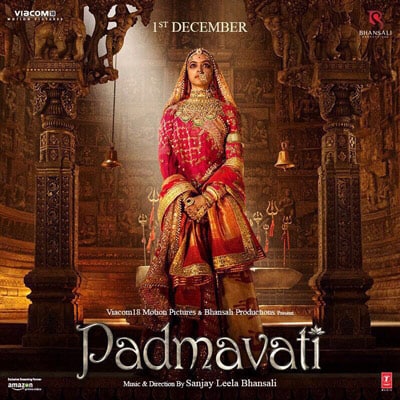 Sanjay Leela Bhansali's magnum opus Padmavati, due to be released on December 1, has run into another problem, this time in the hands of a politician.
Former Gujarat chief minister and ex-Congress leader Shankersinh Vaghela has demanded the screening of the film for Hindu and Kshatriya community leaders before releasing it for ascertaining whether the movie had been made according to historical facts.
Vaghela reportedly said on Wednesday, "One can't tamper with historical facts and present them as per one's wishes to get cheap publicity. If the movie is released without pre-screening, Gujarat will witness violent protests." As if they are bound to happen, he had apologized to the theatre owners in advance if the situation goes out of hand.
By raising the issue of 'historical facts' and twining it with religion and community, the founder of newly formed Jan Vikalp party (he quit Congress in August), has raised a hornet's nest in the communally-sensitive state of Gujarat which is going to polls on December 9 and 14.
Obviously, his intention is to exploit the film's release by kicking up a controversy. Whether he benefits or not is secondary. What should be of immediate concern is his demand for pre-screening and the warning of a possible agitation which have the potential of snowballing into a bigger controversy on the eve of Assembly elections. In the worst possible scenario, the agitation could mar the state polls.
Vaghela's demand, even if not heeded, could set a dangerous precedent with unthinkable consequences in a country where history is interpreted and distorted, not necessarily based on 'facts.' Period films or historical movies can always be subjected to various interpretations by different denominations of society and no two communities will agree on one point, whether it is 'a fact' or fiction. If several changes are to be made from time to time according to the wishes of community heads or leaders, movie producers and directors could never complete a film, let alone release it.
Already, we have a Censor Board whose 'cuts' are either questioned or contested, self-appointed guardians of moral values, culture and tradition and organisations and associations claiming to represent community interests, to keep a strict watch on films made in every language in the country. Their avowed mission is to 'protect and safeguard' the sensitivities and sensibilities of a thousand and odd castes and sub-castes, including their traditional attires, languages, food habits, lifestyles, etc. If the films are dragged into political wrangling, it does not augur well for the industry.