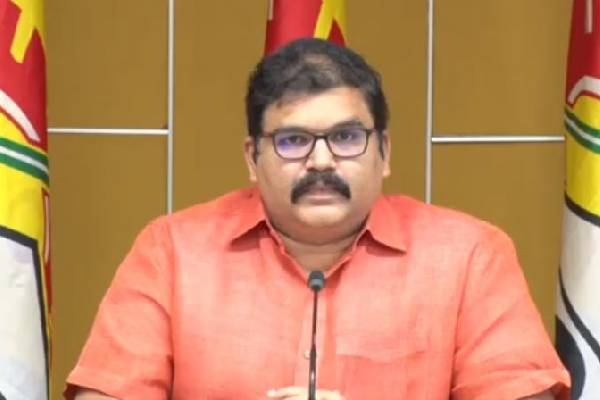 TDP official spokesman, Kommareddy Pattabhiram, on Wednesday lodged a complaint with the National Human Rights Commission (NHRC) in New Delhi with regard to the recent incident that took place in Gannavaram.
The ruling YSRCP ruffians not only attacked the local TDP office but also he was taken into custody after which he was subjected to severe mental and physical torture, Pattabhi mentioned in his complaint to the NHRC. Accompanied by his family members, Pattabhi met the member of the NHRC, Rajiv Jain, and personally handed over the complaint to him.
He mentioned in the complaint that the police, under the directions from the Krishna District Superintendent of Police (SP), Jashuva, arrested him and even snatched the hand phone from him. "I was taken around the Gudivada town by a vehicle, even in some deserted areas, for hours together. Later, under the directions from the SP I was shifted to the Thotlavalluru police station, he said.
Pattbhi wrote in the complaint that in the police station power supply was disconnected and the staff members were sent outside only to beat him and torture him physically for over 40 minutes by three persons who were wearing masks. "Though I was taken into custody on 20th, till 21st evening my family members were not informed of my arrest," Pttabhi pointed out in the complaint.
Stating that his appeal for medical tests, including MRI scan, were not permitted, Pattabhi mentioned in the complaint that his wife too was kept under house arrest. Without allowing his wife to move out of his house, the police subjected her to mental torture, he said and added that till now attacks took place four times on his house and on him personally.
Pattabhi explained to the NHRC member on the attacks on various leaders of the Opposition parties in the past four years and the illegal arrests of some leaders from these parties. "Rajiv Jain, who patiently heard my appeal, promised immediate necessary action on my complaint," Pattabhi later informed the media.
Pattabhiram made a fervent appeal to the NHRC to conduct an inquiry and take proper action against the police officials concerned for subjecting him to mental and physical torture violating the human rights. Rajiv Jain asked his staff members to immediately register a complaint, Pattabhi said.