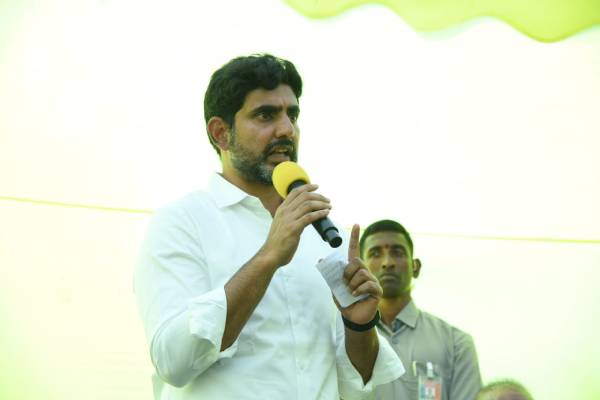 In the past four years, the average debt burden on the farmers has gone up to Rs 2.5 lakh and Andhra Pradesh has created a history in the country with the highest average debt burden on the farmers, observed TDP general secretary Nara Lokesh here on Wednesday.
Lokesh had an interaction with tomato farmers at Buchireddypalli Cross in Thamballapalle Assembly segment. The TDP leader said that Chief Minister, Jagan Mohan Reddy, is simply cheating the farmers in the name of Rythu Bharosa scheme. Stating that the world's largest tomato market is in Madanapalle, Lokesh felt that it is the primary responsibility of the ruling party to come to the rescue of the tomato farmers.
"Minister for Agriculture, Kakani Goverdhan Reddy, is a thief who indulged in burglary in the court. The Minister is now taking shelter in his house with a fear of arrest anytime," Lokesh remarked and told the farmers not to depend on the Minister any longer.
He also cautioned the farmers not to accept the proposal to fix metres to pumpsets as it will ultimately end in looting them. "If you accept the proposal, you will end up neck-deep of debts," he stated.
Maintaining that TDP president Chandrababu comes from a farmers family, Lokesh said that Chandrababu knows the problems of the farming community and thus he shows partiality towards them. Lokesh promised to completely eliminate the middlemen system in marketing the farm products when the TDP forms the government again.
Observing that the people of the State are remembering Chandrababu only when they are in trouble, the TDP national general secretary said that the State is pushed into trouble as the people are forgetting him once they are out of problems. Jagan's rule is filled with holidays, be it crop holiday or power holiday or any other holiday, he remarked.
Lokesh promised to bring down the prices of essentials and fuel once the TDP is back into power and said that no insurance for farmers and zero interest loans. The only solution for resolving the problems of farmers is Chandrababu Naidu should be back as the chief minister, Lokesh told the tomato farmers. The farmers narrated to him the issues that they have been facing for the past four years, including increased power charges and fuel charges.