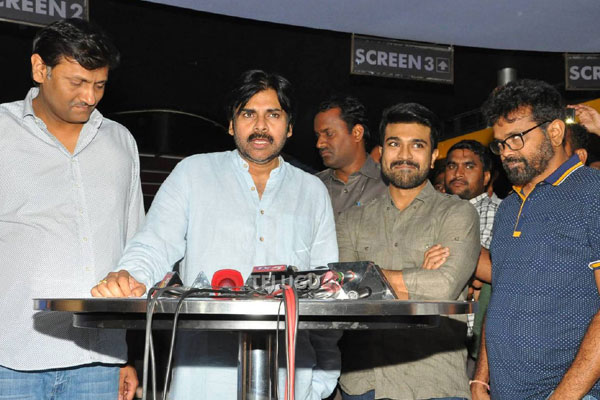 Accolades continue to pour in for Ram Charan's Rangasthalam. Already top stars like Mahesh Babu and NTR publicly appreciated the film and praised Ram Charan's haunting performance.
Now, Pawan Kalyan has some good words for Rangasthalam after watching it with Ram Charan and team in Hyderabad yesterday.
Pawan heaped praises on Ram Charan for his commendable performance and appreciated Sukumar's authentic narration. Speaking to press after watching the film, Pawan said ' I rarely watch movies in theatres. After Tholi Prema, Rangasthalam is the only film I wanted to watch on the big screen'.
' Rangasthalam is a great film which is very heart touching. I will talk more about it at the film's success meet', said Pawan.
Pawan Kalyan's wife Anna Konidela and Ram Charan's wife Upasana also attended the special show held at Prasads IMAX.