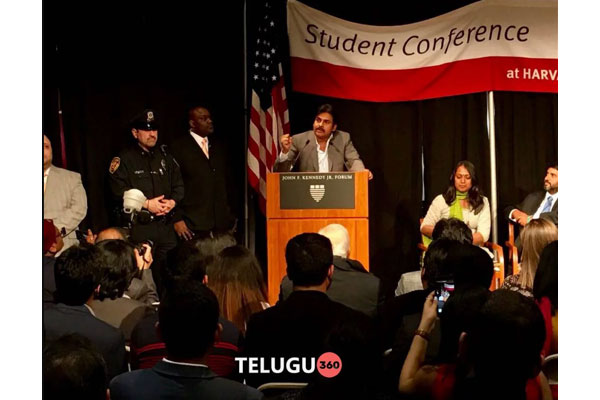 All the images below are from forum created for conference attendees
Fans are the ones who love their favourite actors unconditionally. Movie actors on any occasion thank the fans for their support. But when it comes to politicians, they are at the behest of people. Voters decide everything in India. This set of voters comprises of fans as well. When their star actor enters politics, fans tend to forget that they are first representing the country.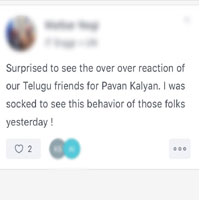 India is enunciating to be a nation that is marching towards modernity and culturally superior to all other civilisations. However, the crazy fan syndrome seems to have ruffled some feathers that drew ire from the regular attendees of the Harvard conference.
Pawan Kalyan's major strength in politics is the support of his fans. The disrespectful and unruly behaviour of his fans at the event in US became a great concern for the organisers. Kalyan's US visit was well received by Indian media and people, however, the buffs in US brought down the esteem of the conference. The actor turned politician who claims to be a travelling solider is backed by undisciplined supporters.The fans sneaked into the conference and disturbed everyone shouting and whistling repetitively. The organisers kept pleading the fans(all of them outsiders) to respect other guests.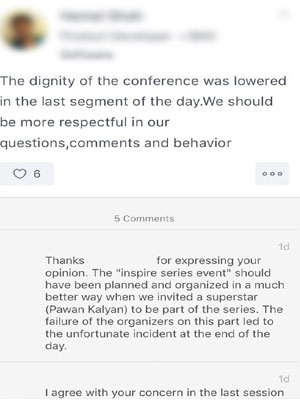 It is expected from fans to shout and scream for the presence of Pawan Kalyan at audio functions and mega events. But admiration is different from going bonkers.The forum attendees were taken aback by the behaviour of the Telugu people for Kalyan. The hooliganism by fans resulted in attendees skipping the conference.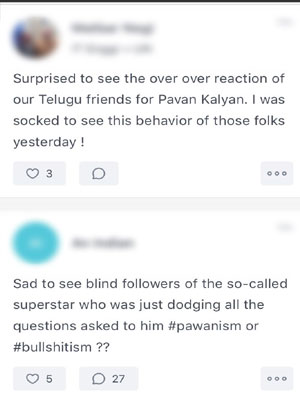 A person who has been attending the conference for five years in a row termed this one as "worst due to certain section of the crowd". The attendees found the questions "displaying narrow-mindedness" and disrespectful towards other dignitaries. Another participant skipped the meeting because they wanted to "save my ears from the unwanted noise."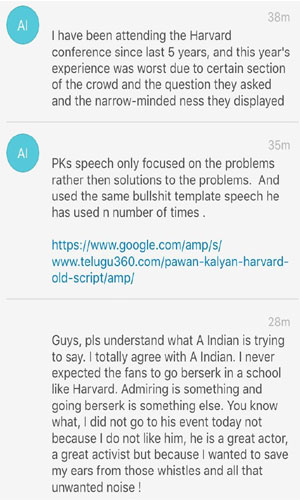 If one heard the speeches uploaded on Jana Sena's youtube channel, the person recording was using abusive words. The actor who claimed to be educated in a street school and was finding it difficult to address at Harvard, was a silent witness as his fans went berserk lowering the dignity of the conference. The ghost of disruption due to crowd behaviour will continue to haunt Kalyan. However, the Jana Sena leader is well aware of his fans, maybe that's why he did not join the silent protest by youth in SCS