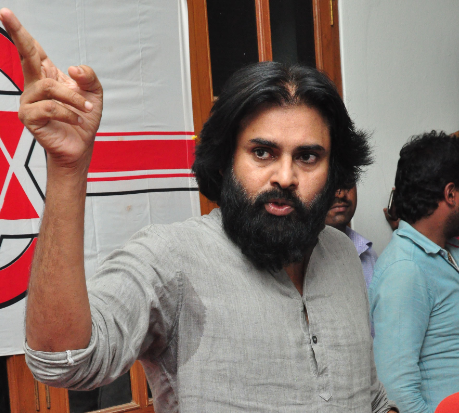 Hiding in safe haven Twitter, Janasena president and actor  Pawan Kalyan this time  flung stones on Congress. He chastised Congress that it was not concentrating on launching a  fight against BJP for bestowing special state category status on Andhra Pradesh. Attacking sarcastically, Pawan grilled Congress , a party that lost power and  bit dust in the 2014 elections every where, to derive satisfaction after he got a dressing down from TDP, TRS, CPI etc. for his inability to wage "real fight" for these rights.
He was yet to answer many questions from these parties. While appreciating his concern at denial of special status to Andhra Pradesh by Modi government, CPI AP secretary Ramakrishna asked him to join them and make street the battle ground not the Twitter to fight for the legitimate rights of Andhra Pradesh.
Everybody thought after the his press conference a week back, Pawan would declare war against the NDA regime led by PM Narendra Modi and march  his army of fans to the streets to stage dharnas before central government offices and lead them to Delhi for a rally near Jantar Mantar. But, he beat a hasty retreat to  Twitter, where attacking and flinging stones at other is risk-free.
In stead of introspecting at his own  failure to take on  Modi's regime and belated reaction on the NDAs  denial of special status, Pawan is resorting to blaming others. Pawan thinks he is too wise a politician in Telugu lands and wants derive two-way advantage as a champion of special status to Andhra Pradesh and basking in the bonhomie with powers that be by refraining to question  PM  Modi and CM Chandrababu Naidu  on the same question.
This is unpolitical and self-defeating politics.
Pawan thinks Congress was doing overkill in the case of Lalit Modi and expects same fervor on the issue of special to Andhra Pradesh of five crore people as well.
At the same time, to blunt the possible attack from the Congress, he diplomatically  sprinkled praises  also on the party, in which his brother Chiranjeevi is a prominent member.
Following are the tweets of Twitter-fighter Pawan Kalyan
"…merely for 'ONE LALIT MODI'Issue than to fight for their Promise to deliver SPECIAL STATUS to 'FiFTY MILLION SEEMANDHRAS.' Hail Congress!"
"I love Congress! I adore Congress! for their Zeal, for their Fervour, for their Passion to take on BJP Govt…"
When is the time ripe for Pawan to hit streets not only for special status, but also for more funds and projects from government of India? He should get a list of projects pending in government of India and decide his course of action.