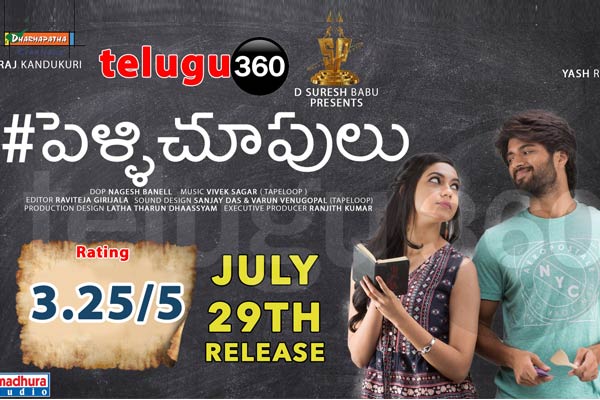 Pelli Choopulu Movie Review
Telugu360 Rating 3.25/5
"Pelli Choopulu" is the film that gives a convincing interpretation of what happens when you push grown-up girls and boys into an pre-arranged date to size up each other.There was an old film released in 1983 with the title "Pelli Choopulu" starring Vijay Shanti and Chandramohan which speaks of post-marital blues. But the current film stays true to the title by weaving a cute love story that revolves around the ritual of arranged dates and the anxiety pangs that grow from it pre-marriage.
Director Tharun Bhascker Dhaasyam creates a vibrant rom-com which shows an improbable romance build between one such pair who "accidentally" see each other in the most unlikeliest of meetings. Into this narrative get dragged a set of parents who nudge their children to do their bidding. A story-telling full of racy screenplay and engaging characterization, the director gives a treat of emotions that are hard to get captured on celluloid nowadays via "Pelli Choopulu". It reminds you of the golden era films of the 60s where directors made "personal films" films true to their own experience and the worlds they come from.
Analysis:
In less than 125 minutes, the film draws you into the story and the characters appear to grow on you in their cycle of roller coaster emotions. What makes the film a winner is the director's laser-sharp focus on the main theme with a tight screenplay.    A lot more interesting stuff happens around few families than just a tense exchange of glances and Moti choor laddos between parents and brides and bridegrooms. The comedy track also gets built with the main narrative with  a newcomer Priyadarshi Pulikonda and his side-kick; they keep the chuckles on with a heavy Telangana accent which is distinctly different from the Andhra accent the elders speak in the film –a strategy that will  work in both the states.There is good support from Kedar Shankar (father of the hero), Gururaj Manepalli (father of the heroine) and Nandu (lover of Ritu Varma). On a flip side, narration is slow and that's not a big deal.
Performances:
Ritu Varma is a revelation in the way she carried the strength of her character which drives the story around. She is a mixture of calmness, resilience and character yet shows her vulnerable and tempestuous side with restraint. Ritu's role is something that even imported Tollywood Divas who charge a bomb don't get in a career. Her screen presence is matched equally by Vijay Devarakonda who already stole the show in "Evade Subramanyam". Vijay's intensity and restlessness on screen always demands your attention and this movie underscores that one more time. There are two scenes in which he takes charge after hearing a mouthful from other characters – and they give you goosebumps enough. With the likes of Nani, Sarvanand upping the stakes in Tollywood, Vijay is a worthwhile contender in the genre. Another show-stealer is Anish Kuruvilla who enters in the second half and delivers a knock-out performance. All the actors look their natural best and come out spontaneous in their roles – a rare feel in a film with few debutants.
Dialogues and screenplay by Tharun also score good.Ultimately, the clarity in the script is what takes it to end with a breeze except a few scenes after interval which seem a drag, especially the drinking scene. The beauty of the film is the director stuck to his perspective on marriage and romance with dignity and neatness that many commercial film-makers would have botched up with additions of scenes and needless songs. Eventually, only films like this can be watched repeatedly without getting bored, not commercial films which don't stand the test of time after multiple viewings. Where Tharun can improve is in increasing the intensity of emotions – you have to know when to "milk" an emotion to the hilt to become a great director from a good director. The first half outdoes the second half, even if the second half has more story movement. Something to think of for Tharun. Yet he has a long way to go with a classy output as this.
Credit must go to producers Raj Kandukuri and Yash Rangineni for backing the script when they first heard it. Producer D.Suresh came in much later after the underwriting of risk by the duo producers which is also interesting considering the baggage of content usually backed by big production houses.
Music & Cinematography :
Music by Vivek Sagar has to be commended in two parts. Firstly, his music has the sound of a new-age music composer who can intermix Ilaiyaraja, Amit Trivedi and AR Rahman in one groove and all the songs in the CD smack of an original feel of a new prodigy. BGM elevates the moods to a new high with a mix of vocals, violins and Blues Harmonica. There are half-a-dozen instances in the film where Vivek Sagar infuses classical and fusion music instrumentation with vocals to uplift a mood or strike a chord with the right emotions of the scene. For those familiar with Vivek's work in Tapeloop, the film has extra songs added which are not in the CD. That's what makes the film an extra audio-visual treat to watch and the composer a promising one to watch out for.
Cinematography by Nagesh is another high which makes the debut film of Tarun more exciting to watch than some of the best debut films of directors like Shekar Kammula etc. You can see earthy shots of Secunderabad and Hyderabad in familiar settings but you can still catch a glimpse of a beautiful sunset or a moonlit night. Since the emotions are important, both the cinematographer and director seem to be conscious of taking mostly non-closeup shots and simple shot divisions that don't distract. Sound sync is another aspect that deserves mention – if it saves time and money, so be it. The feel of the film gets more real with sound syncing dialogues where all artists dubbed on the spot.
Verdict:
Pelli Choopulu is a film with a clean–U certificate, loads of comedy and real-life moments that occur to us commonly – all packaged into a feel-good film which can be unhesitatingly watched by all age groups. One can sense that another redefining "small" film makes a giant leap in content that will strike a chord with all audiences. It has a good intro, sails smoothly with an interval block and then builds up into a crescendo with pre-climax and climax – without using commercial shortcuts or boring scenes. It has a formula without a formula approach that can set new paradigms of entertainment. Good to see a film keep its promise with the positive buzz drummed up from the day of the teaser release. Recommended for universal family viewing.
Pelli Choopulu Cast & Crew :
Release Date : July 29th 2016 (Friday)
Director : Tarun Bhaskar
Producer : Raj Kandukuri, Yash Rangineni
Music Director :Vivek Sagar
Starring : Vijay Devarakonda, Ritu Varma, Nandu, Anish Kuruvilla