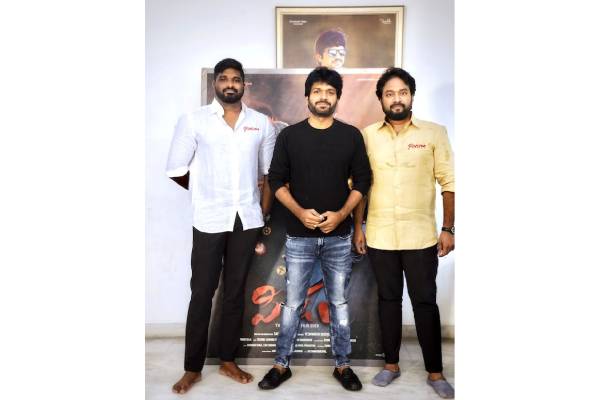 Roja Poolu, Aadavari Matalaku Ardhale Verule fame Sriram, Kushee Ravi are pairing up for a horror thriller Pindam, directed by a newcomer Saikiran Daida. Yeshwanth Daggumati of Kalaahi Media produces it. After unveiling the first look and the teaser, first single Jeeva Pindam was launched by director Anil Ravipudi today.
Krishna Saurabh Surampalli scores the music while Anurag Kulkarni crooned for Jeeva Pindam, which has lyrics by Kavi Siddartha. Jeeva Pindam offers a peek into the film's ambience, elaborating on the emotions of a family in danger and how they need to confront many spirits to stay safe.
'Jeeva pindam bramhandam.. Evaru chepperu thadagatha kathanam..Evaru chuseru yadhatada grahanam..Kaalam mayajalam Jeevam mahapralayam,' the lyrics showcase tension in the film's setting, alternating between life and death. The lead characters are stuck in tricky situation and the lyrics also discuss the significance of destiny.
Anurag Kulkarni's intense rendition is backed by lyricist Kavi Siddartha's deep-rooted understanding of life, spirits and destiny. The various visuals through the lyrical video only enhance the curiosity around the film's theme. Easwari Rao, Avasarala Srinivas, Ravi Varma are also part of the lineup.
"I'm happy to launch the first single from Pindam, the song visually conveys the theme of the film. I'm sure Pindam will be the 'scariest film ever'. I understand the tension one experiences with their debut film and wish director Saikiran and the producers the very best," Anil Ravipudi shared.
The makers have wrapped up the shoot and the film is gearing up for a mid-November release. Pindam will unfold across three timelines – present-day scenario besides dating back to the 1930s and 1990s. It'll be a true blue horror film with a riveting screenplay and surprise audiences, the makers exude optimism.
Please Embed this Trailer (https://youtu.be/Xx8NR-5A7Fs) at the end of the Article andi.