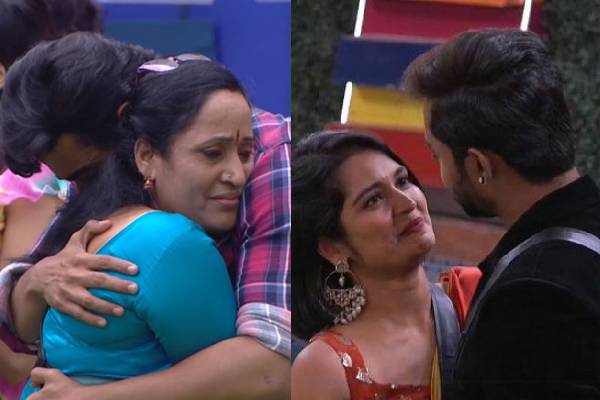 In a recent episode of Bigg Boss 7 Telugu, the housemates continued participating in the Bigg Boss college fun task, providing a delightful blend of laughter, romance, and emotional moments. The task featured Amar and Prashant taking on the roles of English teachers, attempting to translate Telugu sentences into English. However, their humorous struggles with translation left everyone in splits.
Gowtham's mother in the House:
Gowtham, one of the contestants, had a special surprise in store. His mother joined the house, affectionately calling him "Kannayya." Her heartwarming presence added a touch of nostalgia and love to the show. During her time in the house, she offered valuable advice to her son, emphasizing the need for caution in his words and a focus on the game rather than engaging in needless conflicts. Her nurturing and caring demeanor of feeding the housemates with her hands significantly impacted all the housemates, with some, like Bhole, becoming quite emotional.
Priyanka's Fiancee Surprise:
But the surprises didn't stop there. Priyanka, another contestant, received a heartwarming visit from her fiancé, Shiva, who made his entrance in a romantic and melodious manner. Their warm embrace was a touching moment as Priyanka expressed how much she had missed him. Shiva took the opportunity to appreciate each of the housemates individually, highlighting their positive qualities. His advice to Priyanka was filled with love and support, as he encouraged her to maintain her composure and avoid shouting at other contestants, indirectly referring to her altercations with Ashwini. He also advised her to maintain equal relationships with all housemates, hinting at the issues stemming from her association with Shobha. Shiva's visit served as a reminder of the importance of relationships and love amid the intense competition.
Bhole's Wife joined the House:
The emotional moments continued when Bhole's wife, Seema, made an unexpected appearance. Bhole, known for his entertaining songs and lighthearted demeanor, was deeply moved to see his wife. They shared a heart-to-heart conversation in Urdu, discussing their son, Yakub. As Bhole sang a song dedicated to his wife, their connection shone through, showcasing the significance of family bonds even within the Bigg Boss house. Seema praised her husband's transformation from a seemingly weak contestant in the initial weeks to an entertainer, encouraging him to maintain the same spirit.
Bigg Boss 7 Telugu continues to captivate viewers with its unique blend of drama, humor, and emotional moments. With each passing episode, the contestants reveal different facets of their personalities, making the show a rollercoaster of emotions for both the housemates and the audience.