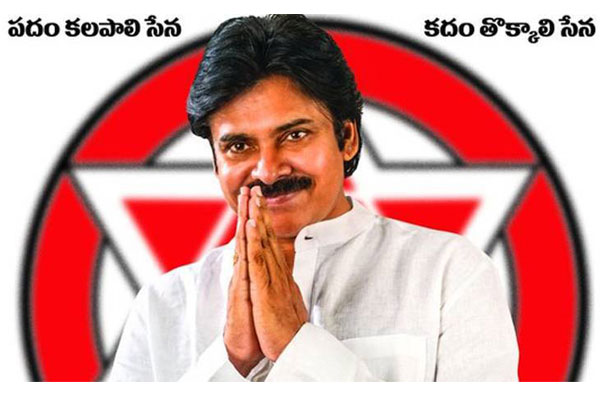 As we wind down the year 2018, it would be interesting to see how political parties fared in 2018. In this series, we will see how the year 2018 was for major political parties- that Telugu people are interested in.
For Janasena, this year has been very good as Pawan came out of the tags like – part-time politician, colluding with TDP always etc. Also, he stopped doing any further movies and fully focused on politics this year.
(Click here for TDP political round-up)
(Click here for TRS political round-up )
February : Provoked Jagan for No Confidence motion
In the early 2018, there was exchange of words between Jagan and Pawan. It all started with Jagan challenging Pawan Kalyan to convince members of parliament from TDP to resign to their posts along with ysrcp MPS for the cause of special category status. However Pawan Kalyan responded to the challenge in his own style and challenged Jagan to move no confidence motion in the parliament rather than resigning MPs from their posts. After deliberating on Pawan Kalyan challenge , Jagan and his team finally decided to move no confidence motion on Modi cabinet. With this, political scenario in the state completely changed and TDP wanted Jagan not to get the mileage of moving no confidence motion on Modi. So TDP finally decided to come out of NDA and move no confidence motion by itself. Pawan later stated that he has trapped YSR CP and TDP to move no confidence motion in the house despite not having a single MP for his party.
(Click here for : Did Pawan trap TDP and YSRCP on "No Confidence Motion"?) But some people do not agree with this claim of Pawan Kalyan. But whether Pawan Kalyan 's claim is correct or not is a different question but one thing is sure that – hadn't he provoked Jagan on no confidence motion the politics of the state today might have been completely different.
March: Shocker to TDP and CBN
Pawan Kalyan public meeting on 14th March on the occasion of party Foundation Day was a huge success and entire media was discussing future political equations after this meeting. Pawan Kalyan supported TDP in 2014 elections and mostly supportive to the party for 4 years. But with one meeting on 14th March, the day when Pawan Kalyan criticized TDP and Chandrababu Naidu vehemently, Pawan Kalyan was able to rubbish two important allegations on him – that he is always supportive of CBN and he is a part-time politician. After massive victory in nandyal by polls TDP was completely in positive mood and expecting similar victory in 2019 elections until March. But after Pawan Kalyan moved away from TDP, first time the question started among people whether CBN will be able to steer the party into success next time.
April : stroke to media
Another important event in janasena journey this year is the open war Pawan Kalyan waged against leading media houses. After Sri Reddy abused Pawan Kalyan's mother with cuss words there was severe negative feedback on media houses for encouraging such people. Already it had been more than 3 months since leading media houses targeted Pawan Kalyan with various weapons like Kathi Mahesh. So Pawan Kalyan waited for the right moment to give his biggest punch to the media that has been doing character assassination on him. There has been great applause in social mediafor Pawan Kalyan's daring move against media . But only time will tell whether Pawan did the right thing or not by keeping away media in his political journey.
Praja porata Yatra
Pawan Kalyan' later started Praja porata Yatra. His tour in North Andhra region was a tremendous success. (Click here for : జనసేనాని ఉత్తరాంధ్ర పర్యటన సమీక్ష). Janasena parade ( kavathu) in Godavari district was attended by lakhs of people despite no leading channel mentioned about this janasena parade. But the only drawback with this Praja porata Yatra is the number of breaks on Kalyan has been taking. It is almost 6 months since he started this but he could complete hardly 6 districts. He doesn't have much time and he is yet to cover almost 7 districts. For a new party like a janasena it is definitely mandatory for the supremo of the party to at least tour entire state once.
Negative comments:
There is no doubt that compared to 2015 , 2016 and 2017, for janasena party 2018 is much better year. However, there are still some negative comments on Pawan Kalyan. On March 14 th, in his meeting, Pawan Kalyan announced that he may go for fast unto death for the cause of special category status. Later on some other occasion, he announced that , along with communist parties you will take up Maharashtra like protest in Andhra Pradesh. ( Click here for : Pawan warns AP government: Will take up protest like Maharashtra Farmers ). But these things never materialized. Also there has been criticism on janasena Chief that ( in recent times) he never took on Modi.
Overall:
But overall what is a journey in 2018 has been very good and Pawan Kalyan was able to prove that his party can survive without the support of leading media and without the support of ruling party. In fact he is doing all his ground work very silently and the support he is getting in social media is unmatched. We have to wait and see how janasena will fare in 2019.