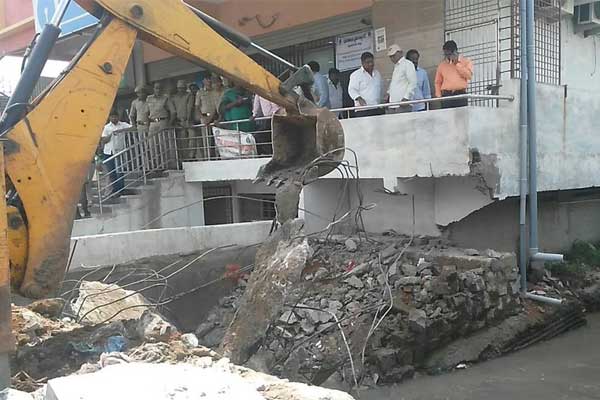 Hyderabad: The Telangana government is showing bias in razing down illegal constructions in posh localities like Banjara Hills and Jubilee Hills in Hyderabad. Following heavy torrential rains lashed parts of the city, the State government braced up to pull down the structures which are hindering easy flow of nalas (drain water system). As part of the demolition driver, the GHMC authorities had so far pulled down hundreds of buildings and commercial establishments across the city which have come up unauthorizedly.
Though, Chief Minister K Chandrasekhar directed the officials to completely demolish the illegal structures in the city without bowing down to any pressures exerted by the leaders of public, the picture on demolition drive, which is being carried out for the past three days, is telling a different story. While the structures of middle class and the poor are being pulled down, constructions and establishments of the rich are being spared, in fact, deliberately.
On Wednesday, the GHMC authorities came to bring down an illegal structure on Banjara Hills road number 1. When the officials started bulldozing the structure with the JCB and proclainer, one of the officials received a phone call. All of a sudden, the demolition was stopped and the officials slowly moved away from the site by suspending the work as it is.
Even in Banjara Hills road number 12, the authorities marked the buildings which are to be razed down. But after some intense drama near the location, the authorities abruptly suspended work and left the place.
Though the KCR government was praised for its courage in going ahead with the demolition, there was suspicion among the people weather the government will act tough on the illegal constructions of the elite. Now, it has become true. Over the past two years, there is not even a single work is being done as per the wish of the Telangana government.
Even after KCR expressing anger over the officials to fill the potholes, there still laxity in implementing his orders. Even orders issued by Municipal Administration and Urban Development Minister K Taraka Rama Rao are not being implemented in the city.