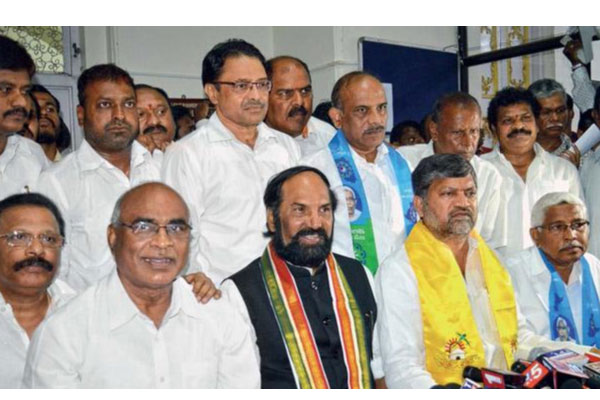 The 'Praja Kutami' (People's Alliance) of Congress, TDP, TJS and CPI has released its joint manifesto for December 7 election in Telangana. They have promised one-time waiver of Rs. 2 lakh farm loan for the farmers. They will reduce age limit for pensioners from 60 years to 58 so that more poor families will get benefit out of it. All outsourcing employees will get revised pay on the basis of court order for 'equal work and equal pay'. At least 1 lakh jobs will be filled within the first year of Praja Kutami coming to power in the state.
Telangana Pradesh Congress Committee president Utham Kumar Reddy said TJS leader Prof. Kodandaram will head the committee to ensure implementation of the manifesto and there would be total transparency and accountability in governance under the alliance. Kodandaram said those consuming below 100 units of power will get free supply.
The Praja Kutami manifesto promised formation of government agencies to replace private firms to provide job opportunities for Telangana workers seeking jobs in the Gulf. The alliance leaders assured to protect interests of all those sections discriminated and marginalised by KCR government in the past four and half years.
TDP Telangana president L. Ramana said only those promises which could be implemented were included in the joint manifesto and a close study would be made all over the state to formulate special plans to extend all these benefits to the intended sections of people. In agriculture sector, the Praja Kutami assured to execute irrigation projects, ensure minimum support price and stabilise crop prices.
[pdf-embedder url="https://www.telugu360.com/wp-content/uploads/2018/11/Peoples-front-manifesto-2018.pdf" title="People`s front manifesto 2018″]