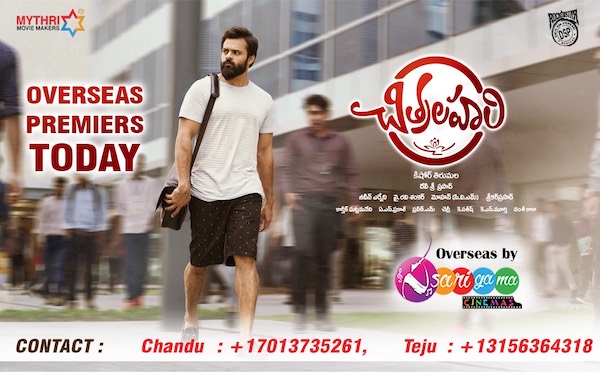 Finally, it's the day – The Grand Premiere Day!!!
Sai Tej's "Chitralahari" has generated positive buzz thanks to its refreshing teaser which has clocked more than 6 million cumulative view on YouTube. The trailer is engaging, promising, entertaining, emotional – everything at once. This movie will be a sure shot winner at the box office.
US Premieres will be on time and tickets are affordably priced at $12 for adults and $9 for kids including premieres.
Online bookings are already opened, and you can book your tickets now.
Sarigama Cinemas thanks all the audience for their continuous patronage and all our exhibitors for investing their trust in us.
We also appreciate Theatre Chains for accommodating us the best Possible Release.
Sarigama Cinemas is very thankful to media for all their co-operation in releasing our Press Communications and Schedules.
CLICK HERE!! for the USA Schedules.
Press release by: Indian Clicks, LLC