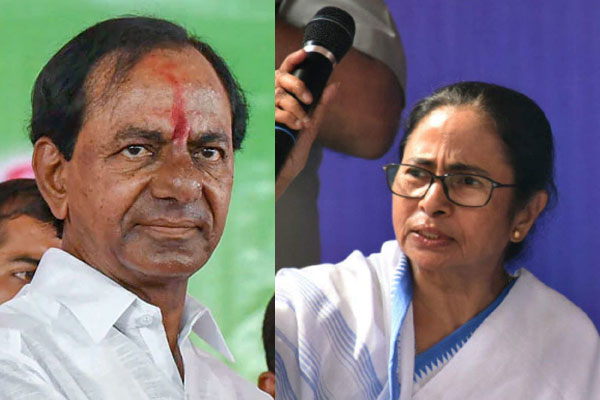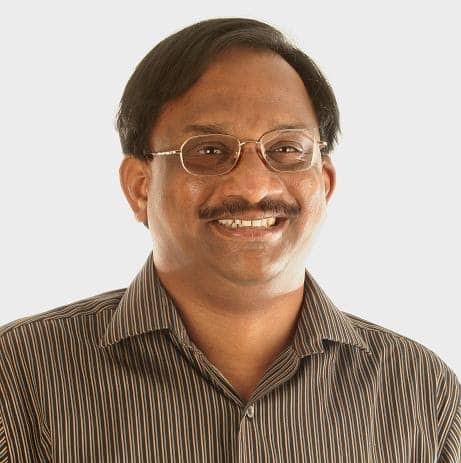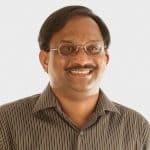 KCR is conspicuously silent on West Bengal developments though Mamata Banerjee is considered a partner in Federal Front proposed by him. This raises doubts over the real intent of Federal Front proposal. This is not the first time. KCR remained aloof when Arvind Kejriwal staged a protest at Raj Bhavan against the centre's high-handedness using the office of Lt.Governor. In fact, the Delhi Chief Minister has been equi-distant from both BJP and Congress, the theory KCR propounds for his Federal Front. In fact, leaders like Mamata Banerjee, Kumaraswamy, Pinarayi Vijayan whom the KCR loves to induct into Federal Front expressed solidarity with Kejriwal while KCR chose to maintain strategic silence. KCR kept himself away from opposition show of strength at Kolkata and Bengaluru and is unconcerned with the tirade of the anti-BJP forces on EVMs. All this adds credence to the speculation of his critics that KCR's Federal Front is an extension of Modi-Shah's political project to isolate Congress.
The Telangana Chief Minister flew to Kolkata to invite her into the proposed Federal Front. In fact, he called on Janata Dal (S) leaders and DMK chief. Barring Odisha chief Minister and BJD leader, Naveen Patnaik, no other leader whom KCR met is committed on equidistance from BJP and congress, thanks to their respective state level political situation. The DMK chief Stalin proposed the name of Rahul Gandhi for prime ministerial position. The Janata Dal (S) allied with Congress to make Kumara Swamy chief minister. Mamata Banerjee invited all India Congress leaders from the opposition Kolkata rally despite her reservations in openly endorsing Rahul Gandhi's candidature for Prime Ministership given her political ambitions.
Meanwhile, KCR is not so enthusiastic to rope in Arvind Kejriwal and Pinarayi Vijayan who are stridently anti-Congress and anti-BJP.
Thus, certain things are very clear if one closely scrutinises KCR's Federal Front episode:
He has been meeting the leaders of regional and smaller parties that are either the Congress allies now or would like to be part of any alliance with Congress in future. They are more anti-BJP than anti Congress. Such parties include DMK, Janata Dal (S), TMC, SP etc. and drift of these parties towards Federal Front would weaken congress efforts to stitch together a rainbow coalition of anti-BJP parties.
KCR has not met leaders of any party that have been showing restlessness with BJP led alliance. They include Shiva Sena, Apna Dal, LJP, PDP etc. However, LJP reconciled with BJP while PDP fell apart from the saffron party subsequently. This indicates KCR does not wish to harm BJP's attempts to rally as many parties as possible under the NDA.
KCR's efforts to form Federal Front got enthusiastic support form parties like YSR Congress, BJD which are more anti-Congress than anti-BJP. So the Federal Front is the right platform for these parties as they wish to remain so till elections and would not hesitate to join the NDA post-2019.
KCR kept himself away from any platform of opposition parties even if it consists of the possible partners of Federal Front if Congress is associated with it. This indicates that the Federal Front is anti-Congress Front rather than a united crusade against BJP which most of the opposition parties are now attempting.
KCR remains silent on issues on which there is a direct confrontation with Modi regime. This includes, the use of CBI on opposition leaders, the 15th Finance Commission terms of reference that benefit the North Indian states detrimental to the interests of South Indian states, misuse of the offices of Governor and Lt. Governor, the questions over EVMs etc. Thus the Federal front is not keen on joining the anti-Modi chorus. KCR refused to voice concern over the developments in CBI, RBI, National Statistics Commission (NSC), Judiciary, etc.
( Prof.K. Nageshwar is India's noted political analyst. He is a former member of the Telangana Legislative Council and professor in the Department of Communication & Journalism, Osmania University, Hyderabad, India )