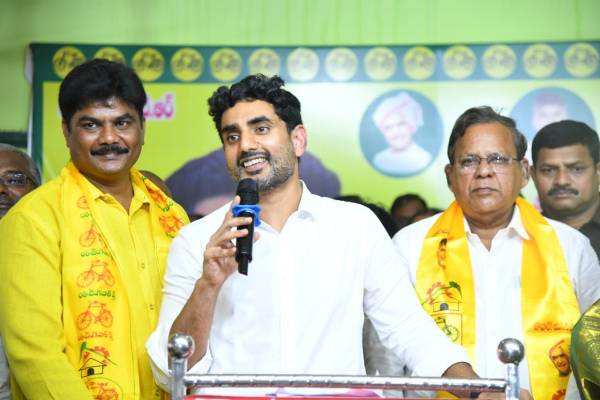 TDP general secretary, Nara Lokesh, on Wednesday, came down heavily on the Jagan Mohan Reddy government.
After inviting the former chairman of Mangalagiri municipality, Kondru Srinivas Rao, and others into the TDP fold, Lokesh said that Chief Minister, Jagan Mohan Reddy, is a blatant liar. He said that the Late NT Rama Rao, who introduced development and welfare to the country.
It was late NT Rama Rao who introduced reservations for Backward Classes and also partnership in the ancestral property for women, he said. Lokesh said that he is fortunate enough to be a partner of the TDP which was founded by a great leader, NTR, who brought recognition for Telugus across the globe.
He said that as the municipal chairman of Mangalagiri, Srinivas Rao, developed the town to the maximum extent possible, the TDP national general secretary said. He promised proper position and recognition in the party for Srinivas Rao.
Lokesh said that those who are close to late YS Rajasekhara Reddy are being shunted out of the YSRCP now as Mr Jagan does not like those who are in favour of his father. He promised to develop Mangalagiri once the TDP is back in power.
Expressing concern that obstructions were created to the TDP national president, N Chandrababu Naidu, to enter his home constituency he said that 13 false cases were filed against him.
Lokesh called upon the party leaders and activists to work for throwing out this psycho rule and work hard to bring back the cycle rule.
Jagan Mohan Reddy withdrew pensions to the poor and thus this psycho rule should end as early as possible, he stated. Lokesh made it clear that he is undertaking a pada yatra for 4000 km for 400 days from January 27 in the name of 'Yuva Galam' and sought the blessings of the people.
He felt that it is a good opportunity for him to move closer to the people and that he always thinks about the people of Mangalagiri. Lokesh assured the people of Mangalagiri that he will always be available for them for any kind of assistance.