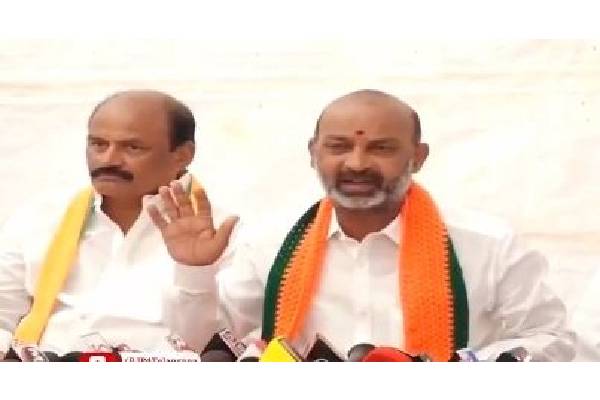 Telangana BJP president Bandi Sanjay Kumar on Wednesday defended his son Bhageerath even as another video of the latter assaulting his batchmate at Mahindra University has surfaced.
A day after police registered a case against Bhageerath on a complaint by the university authorities, Sanjay defended his son saying he fought with a batchmate who was harassing a girl with text messages after getting her number from his phone.
The BJP leader alleged that there is a political conspiracy behind the video being circulated on social media. He slammed Chief Minister K. Chandrasekhar Rao saying he was trying to spoil the career of three children. He dared the CM to face him politically.
Sanjay claimed that the incident had taken place two months ago and the matter was also resolved but the video was now being circulated to target him and his son.
Meanwhile, another video of Sanjay's son abusing and thrashing his batchmate has surfaced on Wednesday.
The first video had gone viral on Tuesday. On a complaint by the head of the disciplinary committee of the university, a case was registered against Bhageerath at Dundigal Police Station under Cyberabad Police Commissionerate.
He was booked under section 323 (causing hurt) and 506 (criminal intimidation) and other sections of the Indian Penal Code.
The BJP leader's son, who is pursuing management course, was angry with Sriram for allegedly getting close to a sister of his friend.
In the video, Bhagirath can be heard hurling abuses at the victim and then assaulting him.
The victim also released a video admitting that he troubled a girl which angered Bhagirath and the latter thrashed him. Sriram said he no longer has any problem with Bhagirath and termed the video of the assault as useless.
Sriram did not file a complaint with the police but the university lodged a complaint based on which a case was registered.