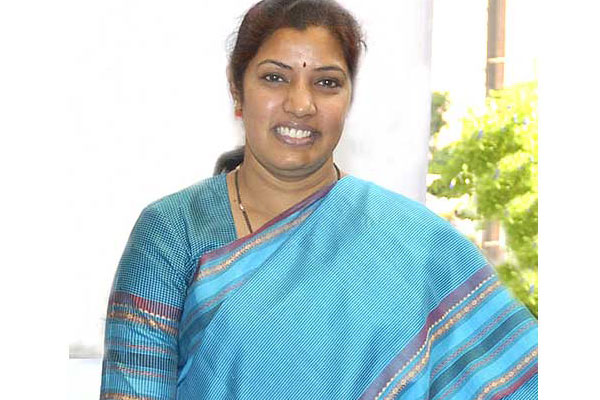 On the day Nara family's take-over of Telugu Desam party from NTR family was complete with the elevation of Lokesh to the rank of general secretary of the party, NTR's daughter D Purandeswari upped the ante against the TDP government. Purandewari, who is also BJP Mahila Morach in -charge, announced her opposition to the acquisition of fertile agricultural lands for setting up industries during her visit to in Pedana, Krishna district yesterday.
In no uncertain terms, the scion of NTR , who distanced Naidu's TDP politics 15 years back, said taking the fertile lands in Machilipatnam (Bandar) area for the development of deep water port and associated industrial corridor was unfair. Pedana also falls in the danger zone of Naidu grandiose plan of Bandar Port development plan. Expressing surprise at the huge land bank being created by the state government with farm lands, she also, demanded Telugu Desam government to release a white paper on the lands acquired so far, plans to acquire more land in future along the with their fertile strength.
On Wednesday, local BJP of Pedana, organized a program to felicitate her on her visit to the town of Kalankari art. Many farmers met her and poured over their woes before her. She said she was especially opposed to the state government's move to acquire thousands of acres of fertile land for the proposed Machilipatnam deep-sea port and port-based industries. Purandeswari, who was HRD minister in pervious UPA government, said she would soon meet farmers, who were facing the threat of eviction due to the proposed land acquisition in Machilipatnam and Pedana mandals in Krishna district.
She demanded that the government could acquire barren land to create a land bank.
The senior BJP leader demanded a white paper be released giving a clear picture on how much land acquired and how it would utilize the land acquired by it. She opined that if acquisition of agriculture lands continued, it would affect the food security in future, in view of the population of the growth of the country.
This is the second the BJP tried to embarrass the its ally TDP in the state in the past ten days. Last week, after a visit to Polavarm project, BJP Andhra Pradesh president K Haribabu said not a pie had been spent on the polavarm project by TDP government. " TDP asking centre to reimburse Rs 1900 crore spent on Polavarm project, is unfair, as there was no physical progress on the project. Government should demonstrate its commitment to the complete the Polavaram project with the same commitment which it showed on Pattiseema project," Haraibabu said.