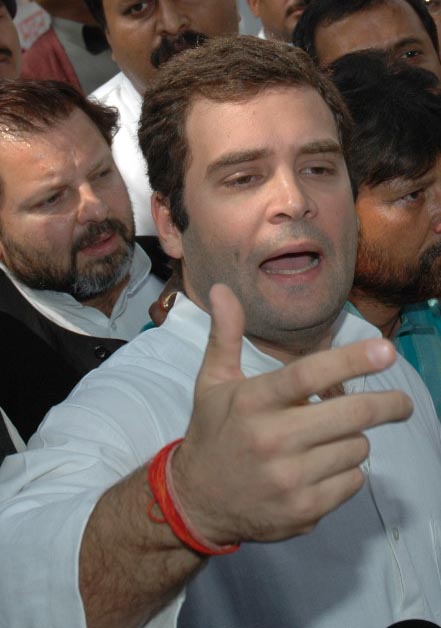 AICC vice-president Rahul Gandhi is expected participate in a Padayatra in Andhra Pradesh and a dharna in Telangana in next 30 days as part of his program to revive the party in a territory which was once fortress for the party.
The scion of Nehru-Gandhi family is on a mission to enthuse the party workers who are disillusioned by the rout Congress faced in  2014-election in two Telugu states.
He discussed his tours to Anantapuramu on July 24, and Hyderabad in the first week of August with PCC leaders of the two states on Wednesday in New Delhi.
The Congress vice-president held separate discussion with TSPCC president N Uttamkumar Reddy and working president Mallu Bhatti Vikramarkha and APCC president N Raghuvira Reddy .
In Anantapuramu district, besides interacting with farmers who are in distress, Rahul will lead a padayatra to express solidarity with the farmers of the district, APCC president N Raghuvira  Reddy said.
Rahul had undertaken padayatra in  Nirmal of Adilabad district  on May 25 to express solidarity with the kin of those farmers, who committed suicide in the new state in the past one year.
In his August visit to Hyderabad the Congress vice president will sit in  dharna to pressure on the TRS government to address problems being faced by people of the state.
He said to have advised the AP and TS Congress leaders  to mobilize party machinery for agitations on the failures of their respective State governments in past one year.
Telangana PCC chief N Uttam Kumar Reddy, party State working president Bhatti Vikramarka and APCC chief N Raghuveera Reddy, who were in the national capital on Wednesday, called on AICC general secretary Digvijaya Singh first and later party vice president Rahul Gandhi.
"The AICC vice president is keen on reviving the party in the TS. He asked us to formulate an action plan as to how to undertake agitations on issues concerning people in the State," TPCC chief N Uttam Kumar Reddy said.
Later, while addressing mediapersons in Delhi, APCC chief N Raghuveera Reddy said Rahul would be undertaking padayatra from Obula Devara Cheruvu  to Kondakamarla in Anantapur district on July 24.
He further disclosed that the AICC vice president would interact with farmers, weavers, agricultural labourers and members of women self-help groups during his padayatra to have first hand knowledge of their problems.